Country Music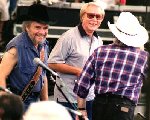 You are looking at the two of the greatest singers country music has ever seen, Merle Haggard and George Jones. They, along with the likes of Conway Twitty and others, represent what real country music is supposed to be. Unfortunately, most of today's music isn't really country, simply isn't very good, or both. On the other hand, a few people still put out some good material on a fairly consistent basis, to provide some relief from those who don't.
Classics and Good Older Stuff
Classics from the Legends
Merle Haggard
With Merle having so many great songs, picking out only a few is difficult. Thus, I will only name some of my favorites.
Big City
The Way I Am
Okie From Muskogee
Ramblin' Fever
Shopping for Dresses(this is one of his lesser known #1s, and is more of a favorite than a classic I suppose. A very different, distinctive song)
You Take Me for Granted
Today I Started Loving You Again
George Jones
The Grand Tour
He Stopped Loving Her Today
Who's Gonna Fill Their Shoes
Conway Twitty
It's Only Make Believe
Hello Darlin'
The Letter(w/Loretta Lynn)
Don't Call Him a Cowboy(one of the best lines ever - "But the roughest ride he ever had was in his foreign car")
Ray Price
I think more Ray Price Songs have been redone than any other artist's.
For the Good Times
Heartaches by the Number
Pride
Other Classic Songs
Make the World Go Away - Eddy Arnold
Amy's Eyes - Charley Pride
Rose Colored Glasses - John Conlee
Some "Recent" Classics
Yard Sale - Sammy Kershaw
One Shot at a Time - Clinton Gregory(This is an unknown that most people have never even heard. The video was aired some during its release in '91, but I don't know that I ever heard it on the radio.)
Almost any Doug Stone ballad - "These Lips Don't Know How to Say Goodbye", "Too Busy Being in Love", etc.
New Stuff, Good and Bad
The best current songs as of 1/29 are:
"Busy Man"- Billy Ray Cyrus
"No Place That Far"- Sara Evans
"Wish You Were Here"- Mark Wills(this is a killer! great tearjerker!)
The worst are:
Alan Jackson's new one, whatever the name is. He can't buy a good song(see below).
"That Don't Impress Me Much"- Shania Twain. Sorry, this totally sucks. "What do you think you're Elvis or something?" What crap.
Any one have a suggestion for one of the lists? - Drop me a line
Has anyone else noticed the resemblance between...
the voices of Lee Roy Parnell and Keith Harling?
the voices of Kix Brooks and Kermit the Frog?
all of Reba McEntire's songs since about 1992?
Does anyone else think that...
Kenny Chesney puts out more good songs than any of these other "new stars"?
Alan Jackson's "I'll Go on Loving You" sounds like it should be played in a "Phantom of the Opera" performance instead of a country radio station?
the only thing good about Tim McGraw is his wife?
Diamond Rio isn't nearly as good as it used to be?
Wynonna hasn't had anything good since she's been "on her own"?
the last good album that Brooks and Dunn had was their debut "Brand New Man"?
when John Michael Montgomery sings, it sounds like someone is holding his testicles?
Assorted Thoughts
(10/2)After watching the CMA's last week, watching the segment honoring Tammy Wynette(which was the best part of the show), which followed Shania Twain's performance of "Honey, I'm Home", I thought "You know, you would have never heard Tammy Wynette on the radio singing "this couldn't be worse than PMS"". There's a reason for that. Like I said before, country music sure isn't what it used to be.

(10/17)What's with Alan Jackson? He can't buy a good song of late. This new one, "Right on the Money", is awful - "Three point jump shot... yeah, she's right on the money". What a joke.

(10/28)I'm pretty impressed with Sarah Evans; she's got a hell of a voice. Her new song, "No Place That Far", is one of the best current songs.

(11/18) I actually like Reba's new one; it sounds like an early eighties tune.