Well, look who's got the Robber, the most electrifying goaltender that Roller hockey has ever seen, now - the Wolfpac. That sounds like bad news for the rest of the Thursday night league at Oak Hill. We now have a great line up of forwards, a very solid defense, and, well, The Chosen One in net. Plus, I now have 3 great goal scorers shooting at the opposing nets: Matt, Bob(he always scores against me once a game), and, once again, Scott Smith, who scored 4 goals against me last session on about 20 shots(0 for 5 or 6 on breakaways, LOL). Certainly, it works to both our benefits to be teammates instead of opponents.
---
Roster
                                                                 Goals
                                 F Scott Smith                    14
                                 F Bob Powers                      9
                                 F Jason Schmidt                   8
                                 F Matt Gulledge                   9
                                 D Jack Weir                       2
                                 D John Lartonoix                  8                         
                                 D Mark Halusan                    3
                                 D Scott Griffith                  6
                                 G 



                                   
---
League Standings

               Team       Wins    Losses     Ties      Points
     
             Mustangs     7      *1*         0         14
             Vipers       7       1          0         14
             ***Wolfpac      6       1          1         13***
             Pens         5       3          0         10
             Invaders     3       5          0          6
             Big Boys     2       5          1          5
             Wolves       1       7          0          2
             Hawks        0       8          0          0
             
---
Schedule and Game Summaries


(6/10) vs Wolves -The guest game summary is by me, Scott( the Bloozman). Well, it was a rough game without the robber there, but we managed to win 12-2 with back up goalie 6'5" Matt Bernstein in net. The wolfpac put together a complete team effort. We made good passes, spotted the open man, and used the pointmen as much as we ever have. We had good puck movment all game long and never lost control of the game. The overpowering offense was too much for the wolves to handle. Our first goal came when a wolf player(not wolfpac) covered the puck in the crease. After much debate, I was nominated to take the penalty shot. The goalie was really far out and I beat him 5-hole. Matt put on a clinic and danced around Wolf players all nite. The Wolves managed to get 2 goals in the first but that was it. After a pretty, yet controversal, mid air tip in by Matt, we took complete control of the game. 7 of our 8 players scored including Matt with 3 goals and as many assists. I had 4, Jon, Bob, Scott(other one), Jason, and Mark showing a game finishing deflection, all had a goal a piece. We have a great session to look foward to. Looks like we have a very good chance to have a strong session. We can only get better with the Robber in net against his old team next week. .

  other games:
      Vipers 5  Invaders 1
      Mustangs d. Big Boys
      Pens d. Hawks
(6/17) vs Vipers - My old teammates -Chris(2 goals),Mark, and Phil(2 goals) Hausmann and crew were not too kind to us on the scoreboard, as they blasted us for an 8-4 loss. Things started off well, for the first minute or so. Mattbroke past his man on the opening faceoff, and wristed in the first goal of the game with only 8 ticks off the clock. We kind of died after that, though, and let the Vipers quickness hurt us by being a bit disorganized and not moving the puck up well. Matt scored another in the second period, but by then it made it only 5-2. Scott also scored on a breakaway in the period, in his typical crash and bang fashion. I struggled a bit in the third, altough I was pretty solid through the first two; our defense was a bit lackluster at times in the game. Bob slid in a fourth goal late in the third to make it 8-4, which is how it ended. On the bright side, this will probably end up being one of the toughest games of the session, if not the toughest. Also, we were playing with only 6, as we had to do without Mark, a solid D man, and Schmidt, a talented forward. Look for us two to meet again in the playoffs. I figured we could go 7-1 this session, so now we have that 1 out of the way. Look out Invaders...

Here's a picture of Scott, myself, and an anxious fan as we discuss what we need to do to play better next week.(some people don't recognize us out of our equipment)
other games:
         Mustangs d. Hawks
         Invaders d. Wolves
         Pens d. Big boys
(6/24) vs Invaders - We let this one get WAY too close for comfort, but still came out on top with a 5-4 victory. This was a very physical game, with a lot of friction and emotion. Scott Smith opened up the scoring when Matt fed him a nice pass at the goal mouth, and Scott made no mistake in putting it past the sprawling goaltender. Scott would go on to score another, and Matt scored two great goals, including a shorthanded breakaway. The Invaders managed to stay in the game, however, and I allowed a soft game tying goal with about 5:00 to go. The team really poured it on in the last few minutes, and managed to draw a penalty. On the ensuing power play, the puck slid back to John at the point, and he wristed in the game winner with under 10 seconds to go. The team defense was great, and I blame myself for allowing us to lose the lead, although I made several key saves at times. On the other hand, we should have buried them by the end of the second period(or before). If Matt and Scott can keep up their great pace, the defense plays this well every game, and the second line can start picking up some goals, we will be fine.
    
Matt spins away as Invader        Mark crosses the red and       
Jason Beisner tries to keep up    connects a nice pass
              



       
  Scott S. sails over the red        Matt makes his move as
  line looking to make a play.       he enters the zone.

      
  I have just gloved the puck     The Robber is set and ready
  and am looking for an outlet    for a shot from the slot

other pics:
John gets focused during warmups.
Bob looks to dump the puck up the boards.
Bob is ready to let go a wrister.
Mark and I look for the puck behind the net.
I cover the puck a la Dominik Hasek, while Matt holds off the opposing forwards.
I get set for a faceoff to my left.
Scott and I sum up the game afterwards.
 other games:
            Big Boys 7  Wolves 6
            Mustangs 4  Pens 3
            Vipers 8  Hawks 0
(7/1) vs Big Boys - This game was nothing to write home about, as we had to settle for a 3-3 tie against yet another team we should have slaughtered. We had nothing going until the third; we were down 2-0 after 2 periods. Matt finally got us on the board on a breakaway goal, and Jack tied it up when he collected a rebound off the back boards and put it in the empty side. Matt put us ahead with about 8:00 to go, but they got me on a rebound with about 3 minutes left, and that's the way it stayed. The second line must start scoring some if we are going to do anything in the playoffs.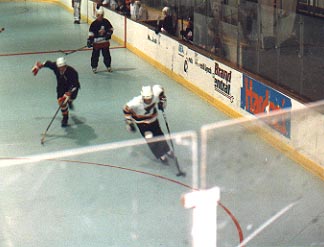 Scott cuts to the net for a great scoring opportunity, as a Big Boy tries to catch up.
other games:
         Wolves 5  Hawks 4 (I actually filled in this one for the Wolves, 
and got them their first win.  What's more, is Matt filled in for the other 
team, and he scored all four of their goals!  Good thing he and I were 
there to make a halfway decent game of it!)
         Vipers 7  Pens 4
         Mustangs 5  Invaders 3
(7/8) vs Hawks - This may have been the game we needed to get us jump started. By the 9:00 minute mark of the first, Bob had 4 goals on the board, 3 quick wristers and a nice tap in after Scott made a great pass from behind the net. Scott was snakebit through the first half of the game, until he pounded in a one timer from Bob, prompting two of our biggest fans, Tim Brown and Paul Lauth to begin chants of "Yeah! Smith! There it is baby!", or something to that effect. Scott was playing with both Bob and Jason because Matt was MIA, as was Jack. Scott would then add two more goals, and Scott Griffith chipped one in as well. Bob would go on to score his fifth in the third, when he picked up a rebound of John's point shot. John, who also had a goal in the second, scored on a nice wrister from the left circle, and put the Hawks away when he nailed a rebound in off the bar to make it 12-2. Next week will be a big game agianst the hated Mustangs, who managed to remain undefeated this week against the Vipers.
other games:
        Invaders d. Big Boys by forfeit
        Mustangs 7  Vipers 3
        Pens d. Wolves
(7/15) vs Mustangs - The hated Mustangs are no longer undefeated, as we put the hurt on them with a 6-2 win. We fell behind early when they converted a nice pass on the first shot of the game, and it remained 1-0 until the second period. We finally got on the board when Scott slid the puck to the slot, where Mark quickly wristed it over the glove of opposing goalie Jay Patrick. The Mustangs got a lucky break(as usual) on their second goal, which bounced off Scott Griffith's skate and right into the bottom corner. Their luck would only carry them so far, however, as I made a couple of great sprawling saves, and then Jason Schmidt broke his goal scoring slump in a big way. Someone's centering pass hit a body in front and slid out in the slot, and Jason walked into a big slapper that 5 holed Patrick to tie it at 2. A few minutes later, he followed up a rebound and banked one in from behind the net to give us the lead for good. Scott Smith then put us up by 2 with a gritty goal from in front of the net. The Mustangs kept pressing, but we withstood everything they could dish out, including a 4 on 2 PP(nice block Scott). After the penalty had ended, Jack made an incredible rush from behind our net, got by 3 Mustangs, froze Patrick, and put in the 5th goal. Mark finished them off when he persevered in front of the net and jammed in his second of the night. A great effort by all of the guys, probably the best game we've played as a team, and of course, it's always great to beat the Mustangs. Incidentally, Scott Smith's "companion", Meghann, was back in the crowd tonight, so that may have helped out a bit.
other games:
        Pens d. Invaders
        Big Boys d. Hawks
        Vipers 10  Wolves 0
(7/22) vs Pens - A great team effort tonight as four different players score, two with 4 goals, en route to a 10-4 win to put us solidly in the top 3. Jason Schmidt continued his excellent play, opening up the scoring with a quick move to the backhand in the slot. Scott Smith would make it 2-0 a few minutes later, and Scott Griffith and John also scored to make it 4-0 at the end of the first. I had a bit of a lapse in the second, mainly due to a lack of action at the start of the second following a busy first period, but Scmidt and Scott G. had already scored again, so it was still 6-3 after the second. The Pens snuck in one goal in the third, but I was back on track for the home stretch, and Scott and Jason would each score two more to finish the 10-4 victory. We looked very good tonight; we played tight defensively, read the play well, and finished off scoring chances. One more week 'til playoffs...
other games:
        Vipers d. Big Boys
        Mustangs d. Wolves
        Invaders 8  Hawks 2
(7/29) vs Wolves - Upon the late arrival of the Wolves goalie, at which point the score was 4-2, we played a near flawless game. I wasn't able to consult everybody afterwards, but I believe Scott, Bob, and John all scored two goals, Jason got a goal, and I made sure the Wolves got nothing else to get the 11-2 win. Playoffs begin next week...
other games:
        Pens d. Hawks
        Vipers d. Invaders
        Mustangs d. Big Boys
(8/5)Playoffs

     Mustangs -----   Mustangs3-1 shootout
                   -----------------
     Pens     -----             Mustangs 7-3
                             --------------
     Vipers   -----   Vipers 7-3
                   -----------
     Wolfpac  -----