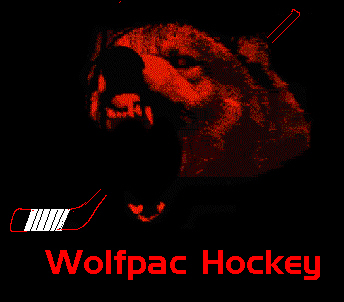 ---
Roster
                                                        Goals
                                 F Scott Smith            4     
                                 F Bob Powers             8
                                F/D Jason Schmidt         6                              
                                 F Matt Hagerty           12            
                                 D Mark Halusan
                                 D Bryan Beisner          5
                                D/F Jason Beisner         7
                                 G The Robber himself, Shaun Roberson
---
Standings
                                               W      L      T      P
                
                          Vipers               9      1      0     18
                          Ice Cats             7      2      1     15
                          Pens                 7      3      0     14
                          Mustangs             6      4      0     12 
                          Beavers              6      4      0     12
                          Hawks                5      5      0     10
                          Wolfpac              3      7      0      6
                          Auks                 2      8      0      4
                          Wildcats             2      7      1      4
                          Mean Street Posse    1      7      2      2
                          
Final Wolfpac Goals For - 46, Final Goals Against - 49

League Average Goals For and Against- 53.8
---
Schedule and Game Summaries
(12/2) vs Vipers - After a very slow first period that saw the 'Pac down 2-0, the team picked it up a bit in the second; Bryan slipped in a rebound on the PP and a few minutes later Jason Beisner banged one in as well. The deciding goal came right at the end of the second period on a PP, when a screened Robber failed to see a slapshot to the low corner. The team generated some pressure late in the third, but was unable to get the tying goal before time ran out. A tough one goal loss, but it was a pretty good effort considering possibly the most potent offensive team was held to 3 goals, thanks to a pretty good defensive showing and some excellent goaltending, and considering that we never seem to beat this damn team. The 2 goals are the least the team has scored in a game the last two sessions, but offense will come, especially when Matt comes back healthy next week.
other games:
         Ice Cats d. Mean Street Posse
         Wildcats d. Beavers
         Auks d. Mustangs
         Pens d. Hawks
(12/9) vs Beavers - This game cannot hardly be described; we basically controlled the game, scored 4 goals(Matt(2),Jason S., Jason B.), and they played pretty well in their end, scored one good goal, four other pieces of shit and somehow won the game. How we can play the Vipers to within one goal last week and then lose to this team that was, well, pretty awful, is inconceivable. Of course, luck went against us as usual - we hit at least 2 posts, and the first goal against us hit a towel(yes, a towel) that the referee had placed over a wet spot and... nevermind, it's so ridiculous it's not even worth talking about. Losses don't get much worse than this.
other games:
         Hawks d. Mustangs
         Vipers 6  Pens 4
         Mean Street Posse 5  Wildcats 5
         Ice Cats d. Auks
(12/16) vs Mean Street Posse - The 'Pac was back on track tonight, playing a strong puck control game, firing a lot of shots, and wreaking havoc in front of the nets. The MSP got their only goals in the first period, including the first goal of the game on a one timer. Matt got the scoring started when he maneuvered in front of the net and wristed in a high shot. Trailing 2-1 after one period, the team came on hard in the second, and Bryan Beisner scored on a slapper, and Matt gave us the lead on a wraparound goal. Bryan and Matt(a SH breakaway) each scored again in the third, and Jason Beisner added a power play goal to seal the 6-2 victory. The penalty killing was very good in the third, not allowing the MSP to set up well, and the shots they got away were easily steered aside by the Robber. Also, Scott broke his record for games without a goal by extending his streak to three games. Way to go Scott! Always knew you could do it! Bob was absent due to illness. Matt Enzwiler was on hand in the audience tonight. Back to the big rink next week, as we continue our climb to the top...
other games:
         Vipers 6  Mustangs 2
         Ice Cats 10  Wildcats 6
         Hawks 10  Auks 7
         Pens 13  Beavers 3
(12/23) vs Hawks - There is good news and bad news. The good is that Bob and Scott broke out of their scoring droughts with 3 and 4 goals respectively, the Robber was great, and the team played one of its best games, winning 9-2. The bad news is, the retar...I mean, referees, didn't show up, so this game will not count, and we will have to play an "official" make up at a later time. The standings will be updated when more information is available. Note: Scott and Matt also had some heroics earlier in the day, combining for the winning goal for the Belleville West Alumni squad over the current BTHS West squad.
other games:
         Auks ? Wildcats
         Ice Cats d. Vipers
         Beavers ? Mean Street Posse
         Pens d. Mustangs
(12/30) vs Ice Cats - A game featuring rough play, some good goaltending by both the Robber and opposing goalieAaron Bronsman, shady officiating, which meant loads of penalties, and three goals that deflected in off defenseman. Oh, and we were without Matt, Jason Beisner, and Scott O'Brian. Basically, the deck was really stacked against us, and we were right in there at the start of the third, down 4-3 on goals by Bob, Jason Schmidt, and Bryan, and then fatigue started to get to us, and the penalties just kept coming, and we ended up losing 7-3. With a full squad, this could have been a very different game, probably with a different outcome. Another potential win that slipped away...
other games:
         Mustangs d. Mean Street Posse
         Beavers d. Hawks
         Pens vs Auks
         Vipers 6  Wildcats 2
(1/6) vs Wildcats - What else can be said? This was by far the worst game of all, even though we ended up losing only by 3. We were very sloppy almost all of the game, failing to make good clears and pick up guys in our end; at least three of their goals were scored by a guy untouched on a rebound right in the slot, and another was on a 2 on none, which was also a rebound after an initial save. Several goals were of the soft variety and if those weren't allowed a tie could have been salvaged, but a win should have been easily attained with a more steady solid all around effort. We haven't had the whole team together for three weeks either, and that hurts. Scott O'Brian was gone again, and Scott(at a Blues game) and Matt(stuck at work), two offensive keys, were out. It's difficult when everyone is trying to make up the slack, and they end up getting off their game trying to do too much. Jason Beisner and Jason Schmidt each scored, and Eric Bronsman scored 3 while filling in. Well, on to next week...
other games:
         Pens d. MSP
         Ice Cats d. Mustangs
         Beavers ? Auks
         Vipers d. Hawks
(1/13) vs Auks - The 'Pac was back to form tonight, as we sailed by the Auks by a 10-3 mark. The whole team was together again for the first time in 3 weeks, and all aspects of our game were running on all cylinders - the offense really clicked, the defense was solid for 90% of the game, and the goaltending was outstanding(well, it was). Matt opened the scoring when he broke past two defenders and went stick side. Bob made it 2-0 a few minutes later with a wrister to the far corner, and Matt would score again before the period ended. Scott Smith proceeded to score his first goal of the session(yes, his first goal of the session) on a SH situation in the opening of the second period when he got to a loose puck for a breakaway and slid it low to the five hole. Jason Beisner scored on backhander when he got around a defenseman midway through the period to make it 5-2. The 'Pac really opened it up in the third, as Matt scored again, Scott scored on a high wrister to the stick side and a chip shot over the glove and Bob scored early in the period and then late when he collected a rebound and slid it into the empty side. Thus, three players completed hat tricks(a hat hat trick? hat trick hat trick? hat hat trick trick?...) Playoffs are quite a stretch at this point, but it's clear that when the team is together and playing well, we are capable of beating any team, and hopefully we can finish strong and carry into next session.

Note: correction - credit Jason Schmidt with the second goal originally given to Bob Powers on a bank from behind the net.
other games:
         Mustangs 5  Beavers 3
         Vipers 10  MSP 1
         Ice Cats d. Pens
         Hawks d. Wildcats
(1/20) vs Mustangs - Well, we have finally lost to the Mustangs, in a close, hard fought game. Mustangs struck first on a quick wrister off the right post, but Scott tied it up when he chipped in his own rebound a few minutes later. The Mustangs scored later on a 3-2 that was stoppable, but difficult because a one timer was anticipated and didn't come, and position was lost a bit. Jason Schmidt scored on a long wrister from the point before the end of the first, and it was tied 2-2 at the start of the second. The only goal in the second period, which was probably our worst, was a Mustangs wrist shot through traffic that went just inside the right post and apparently through the net, as it came out to the side of the net, and wasn't called until a few seconds after play went on. We failed to score on a long PP in the third, with a lot of shots not getting through or the goaltender making some good saves. We finally scored our third when Bryan Beisner wristed it high over the stick side, but that was after the Mustangs had scored when a breakaway was stopped, but the puck was banked in from behind the net(what do you know, another bad break). So, another one goal loss, and it seems the playoffs are out of reach, but we can still make it hell for the Pens and Vipers the next two weeks...
other games:
         MSP d. Auks
         Pens d. Wildcats
         Vipers d. Beavers
         Hawks d. Ice Cats(Ice Cats had 4 skaters)
(1/27) vs Pens - A very close game all the way through; we played very besides a few minutes in the second that contained two goals against, and then gradually we got outplayed in the third, when we blew a 3-2 lead and ended up losing 5-3. Bob scored two great goals on high wristers, and Jason Schmidt scored the other goal the same way after a nice passing play. Scott did his part drawing four minor penalties and a misconduct, but the ensuing power plays did not convert and didn't help matters, nor did the three occasions when the post stopped the puck.
other games:
         Mustangs vs Wildcats
         Auks vs Vipers 
         MSP vs Hawks
         Beavers d. Ice Cats
(2/3) vs Hawks -7:00 - A close game that wasn't really like the first win against them. They scored on their first shot, a two on one, but they never led after that, only tied. Matt scored on a break in the first to make it 1-1, and Jason Beisner scored off a nice pass from Jason Schmidt to make it 2-1. Matt scored again in the second period along with Bob, but it was tied at 4 midway through the third. Following a spectacular save that saw the puck batted out of mid air by the Robber's stick, Matt managed to score his third of the game to get the 5-4 win.

(2/3) vs Vipers - 9:00 - Following an awful first 5 or 7 minutes that included two Viper goals, there was some spectacular goaltending in this game at both ends, but the Vipers ended up on top by a count of 7-4. Bob chipped in a high wrister to start our scoring, and Matt whistled one by to get our second, making it 3-2 at the time. Following a few onslaughts by the Vipers, we were down 5-2, an never quite got back in reach. Both teams scored 2 goals in the third including Jason Beisner and then Bob scoring a rebound late to close the gap to 3. Matt Enzwiler, Paul Lauth,, and Steve Greene were among those on hand in the crowd, thanks guys. All in all, a pretty fun game for a loss, with a lot of action, to close out the session. Until next time...
other games:
         Mustangs d. Auks
         Pens d. Hawks
         Beavers ? Wildcats
         MSP 5   Ice Cats 5