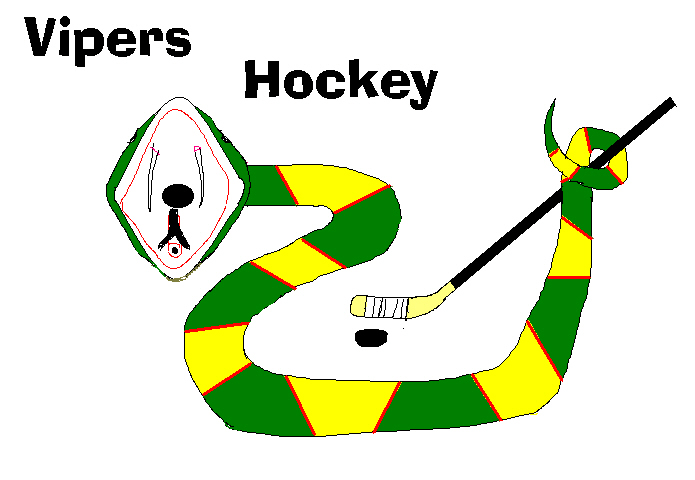 This team plays on Thursday nights at Oak Hill Sports in Belleville, IL.
This will be my first time playing for this team, although I have played against them in the past. This should be a very competitive session, as the top teams are returning, and at least one new team is coming in. A few of my old teammates(some are still teammates in other leagues) will be on the Wolfpac team, so those games should be interesting.
---
Roster

                            Coach John Paulos
                            F Phil Hausmann
                            F Chris Hausmann
                            F Sonny Ashlock
                            F Steve Wolf
                            F Edson Gonzales
                            F/D DeWayne Kenner
                            D Sib Gonzalez
                            D Mark Hausmann
                            D Chris Mense
                            D Brian Hausmann
                            
                            G 
---
League Standings
as of 5/20

                             Wins      Losses    Ties     Points

         Beavers              10         0        0          20
         Auks                 6          3        1          13
         Wolfpac              4          5        1          9
         A Cow Named Paul     3          5        2          8
         Vipers               4          6        0          8
         Mustangs             1          9        0          2
         

---
Schedule/Game Summaries
(3/18) vs A Cow Named Paul - Well, kind of a lousy start, in more ways than one, as we lost 7-1. The first 10 minutes were rough, as we surrendered 4 goals. The team tightened up a bit in the 2nd and 3rd, and I started to play closer to my standards. We still didn't generate many good chances, only 3 or 4 I can really think of. Our lone goal came short handed, actually, when Mark fed Sonny up the right wing for a breakaway; he was able to wait the goalie out and wrist a quick shot low to the glove side. As bad as this game was, I am very optimistic about this session. Tonight we did NOT play even close to our ability, as we have a talented team that should score some goals once we get going. It will also help when we get Steve in the lineup(he was preoccupied at the Blues game tonight).
other games:
    Auks 5  Mustangs 2
    Beavers 8  Wolfpac 3
(3/25) vs Beavers - This was one of those games where you ask, "How did we lose to this team?" They were not overly skilled by any stretch of the imagination, but played well together and made good passes, things we have NOT done the last 2 weeks. They had seemingly infinite 2 on 1's and several breakaways, along with some point blank chances; meanwhile, we had maybe 10 shots. Needless to say, we lost 6-0(it's a good thing I was playing well, could have been a lot worse). Unfortunately, Chris (Hausmann) was unable to make the game; Steve Wolf was in the lineup and helped in moving the puck up, but we did nothing once we got in the offensive zone. With the skill players we have, I would have never believed this team would only score 1 goal in the first 2 games. The problem is that we aren't skating as a unit. It's always one guy skating up on the play, not a group skating and passing together.

other games:
    A Cow Named Paul d. Mustangs
    Auks d. Wolfpac
(4/1) vs Auks - I wouldn't even discuss this game if it weren't for a stretch where we finally started to play. We were awful in the first again, but managed to score 6 goals to tie it in about a 15 minute span late in the second to the beginning of the third. We looked like a totally different team, the team we should be all of the time. I know Steve, Phil, and Sonny all scored, but I don't have account of all the goals. It was all downhill from there, however, after we gave up a PPG. I was subjected to one of the worst barrages of my career up until the end of the game.
other games:
    Beavers 7  A Cow Named Paul 4
    Wolfpac 4  Mustangs 1
(4/8) vs Wolfpac - Better, but we still played awful in our own end. We scored 4 goals(Steve, Phil, and ???), but gave up 7. The referees did NOT help our cause any; we got nailed for a lot of piddly stuff. We were winning 4-2 until the barrage of penalties went against us. My buddy Scott Smith got 2 goals on me, one lucky jam in and one off a nice pass on a 2 on 1 down low. I felt I could have played better, although I made a lot of great saves and almost everyshot I saw was a great scoring opportunity.
other games:
    Auks d. A Cow Named Paul
    Beavers d. Mustangs
(4/15) vs Mustangs - An excellent game; Edson opened the scoring near the end of the first when he roofed a rebound over opposing goalie Jay Patrick. The Mustangs quickly countered with a tying goal that just snuck through my arm, and it was 1-1 after 1. We had a little bit of a lull at the start of the first, and fell behind 3-1. It was later 3-2 after Steve scored our second goal on a rush, but the Mustangs got the 2 goal lead back a few minutes later. That was all they would get, however. Steve scored another to pull us back within 1, and Chris Hausmann ripped one from near center with 3 seconds to go in the period that went in off of Patrick's glove. It was all good guys after that, as Steve scored 2 more goals, Chris added another and 2 assists, Phil and DeWayne each scored, and Mark got 6 assists to give us the 9-4 win. The difference this game was that we played much better in our own end and in the neutral zone. As a result, we were able to get some rushes going the other way after we had broken up plays at center. I also played much better, as I faced more stoppable shots, and only had to make 5 or 6 really tough saves. It also helped that we didn't get it up the rear end from the referees(well, not as hard anyway). If we can keep this up, we should win quite a few games the second half.
other games:
    Wolfpac 6  A Cow Named Paul 4
    Beavers 10  Auks 6
(4/22) vs A Cow Named Paul - Another great job by the team, as we controlled the play for the great majority of the game. They got the first goal on a quick one timer, but Chris scored on a nice bing banger in front of the net. I kind of let a bad one in on a shot from the top of the circle, as it just squeezed through my arm and rolled in to give them a 2-1 lead at the end of the first. Mark made a great play to step up and intercept a pass and then slide a shot home to the far side to tie it early in the second. The Cows got a breakaway goal that I also should have had(got a piece of it), but we put it on them after that. The opposing goalie, Paul, played a strong game, but we stuck to our game and kept the heat on. Chris added another goal from the side of the net, and Phil scored a couple of highlight reel goals to give us the 5-3 lead. Sib scored the final goal on a scramble in front to top off the 6-3 win.
other games:
    Auks 5  Mustangs 4
    Beavers 7  Wolfpac 3
(4/29) vs Beavers - A disappointing loss; we should have had this game. We gave them their closest game yet, but we really let up in the third period and allowed them to take over the game. There were some bright spots: we scored 6 goals(Phil(2), Steve, Chris Hausmann, Sonny, and Chris Mense) and skated hard at times. The downsides took over, however, as I wasn't seeing the puck well and we had some letdowns at bad times. Bottom line - I need to get us the win when we score 6 goals no matter what, but we must regain our form of 2 weeks ago.
other games:
    Auks 7  Wolfpac 2
    A Cow Named Paul 6  Mustangs 5
(5/6) vs Auks - I'd say we regained our form tonight - a great effort to beat a pretty good team that wallopped us the first time around. We maintained excellent puck control throughout the first period, and were ahead 2-0 following goals by Edson and Sonny and two breakaway saves by yours truly. Chris Hausmann extended the lead to 3-0 before we had a little trouble for a short period and surrendered two goals, one of which was a lucky bounce off a defensemen's leg. After we hit two posts, it was 3-2 after the 2nd period. Again, I had a strong third period, and Mark and Sib added insurance goals to seal the 5-2 win. Nearly a perfect game; we had excellent control/pressure, played well in our own end, and I made the big save when necessary.
other games:
    Wolfpac 7  Mustangs 2
    Beavers 8  A Cow Named Paul 7
(5/13) vs Wolfpac - This was a game we really needed, and we came through in what was probably the hardest fought game of the session thus far. We were a little slow off the start, and fell behind early on a goal by Bob Powers. We gathered momentum as the period went along, however, and Chris Hausmann got us on the board when he chipped in a nice pass from I believe Phil. Steve Wolfe then got us a 2-1 lead when he followed up a rebound from Sonny's shot. The only goal in the second period came on a broken play in our own end, when the puck bounced to the front of the net, where my buddy/nemesis Scott Smith was to fire it in before I could really get set. On the other side of the coin, he had 2 breakaways in the period and I gave him nothing to show for it. We got it going again near the middle of the third, and Phil made a nice move at the point and ripped a slapper in to give us the lead. A few minutes later, after I had made a couple of big saves, either Chris or Steve popped in a rebound to give us the 2 goal cushion - good thing. Wolfpac got a lucky one that hit a couple of skates(credit Scott with the goal) and eluded my eyesight before finding the net. With the score 4-3, we weathered the storm as they pulled their goalie for the extra attacker and held on to get the win. I don't think we played as well as we have in all of our other wins, but again this was really a tight battle, and the other team was a big part of that. Our transition was a bit sloppy at times, and I had to come up big more often, but overall we played a pretty good game to beat a pretty good team.
other games:
    A Cow Named Paul 4  Auks 4
    Beavers 9  Mustangs 4
(5/20) vs Mustangs - Well, we really blew it; all we had to do was beat a team that hadn't won all damn session to lock in a playoff spot. We didn't, and got snubbed into 5th place because we scored less goals than the team we tied with. Any other league I know of uses WINS to break a tie first, THEN goals. It looks stupid to see the standings with a team with 4 wins behind a team with 3 wins; what the hell? Plus, they didn't beat a single team that is in the playoffs, while we beat 3 of them. As it is, they tied their game in the last 2 minutes to get that 8th point. What a bunch of shit. Steve and somebody else got our 2 goals by the way. Steve also did a number on an unfortunate Mustang, and ended up w/ a 3 game suspension after all the dust had cleared.
other games:
    Beavers 6  Auks 5
    A Cow Named Paul 3  Wolfpac 3
(5/27) Playoffs:
Beavers 4 A Cow Named Paul 2
Auks 6 Wolfpac 1