Mustangs Hockey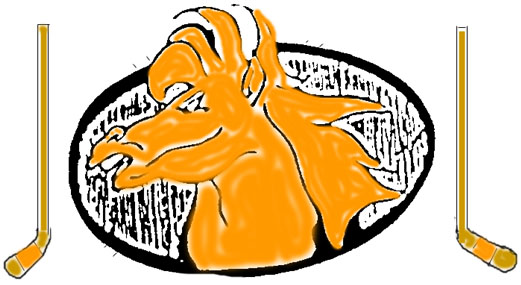 Roster

                                                              Goals
                   F Shane Oliver                                                    
                   
                   F Jamie Savage                       5                                      
                   F/D Mike Strohm


                   F Jay Patrick                                  4

                      
                   D Todd Baldwin                        1                                              
                   D Ed Bauza                           5                         
                   D Phil Bova                             
                   D Greg McCall                      
                   G Shaun "The Robber" Roberson
                   sub F Gary DeFossett                          3                            
                   sub F Chuck DeFossett                         1                             
                   sub D Jeff Jensen                             1
---
Standings
                             W    L    T    P
         Bozos             5    1    0    6    
         Invaders          2    2    2    5    
         Mustangs          2    3    1    5    
         Vipers            2    2    1    5(+?)
         Auks              2    3    0    4(+?)
         Hawks             1    3    0    2(+?)
---
Schedule/Game Summaries
(5/18) vs Invaders - We picked up where we didn't leave off last season, dropping a game 8-3. The first half of the first period saw six goals, three a piece. Jamie scored the second goal on a backhander, and Jay scored the third on a backhand move in front of the net; the first I can't recall(note: 6/15 credit Ed). We died after that though, as we were beat to the puck more often than not, and got beat in our own end too much.
(5/25) vs Vipers - We've got the ball rolling with our first win, against a stronger team than we lost to last week. Actually, we played 4 on 5 for about the first 3/8 or so of the game, and only scored 2 goals against the empty net/defenseman fill in. It seems that often happens, when a team is playing against an empty net, they don't score much. They either change their game, or are afraid to hurt a D-man covering the goal, or something. Anyway, Gary scored on a backhanded after faking the defenseman down, and Ed scored on a wrister to the would be glove side. The Vipers scored on a screen following a rebound at the side of the net. After they got their fill=in goalie, we started to play much better, and someone stuffed in a loose puck to make it 3-1. The Vipers scored on a similar play to the first goal and a breakaway rebound, but I was near perfect otherwise, controlling the puck much better than last week, and had more spring and energy for the second shots. Meanwhile, Chuck had scored on a stick side wrister on a 2 on 1 in close and someone else I can't remember, so we were still up by 2 at all times. Jay ripped a one timer inside the post off a faceoff win to seal the game at 6-3. Jamie was absent by prior arrangement, so Chuck filled in at forward, while Mike was also gone(Thanks Jeff Jensen for filling in on D). Shane is still out with the hand injury.
(6/1) vs Bozos - This was a very exciting, well played game against a very good team, but unfortunately we won't get any points out of it, as we lost by a final of 6-4. They struck first on a breakaway from the left side, but we tied it when Jeff(still playing for Mike, who is out with a sore groin) put one over the glove side. We were trailing 2-1 in the final minute of the period, and were shorthanded when Jay broke behind the D with 5 seconds left in the period and poked in the tying goal in the dying seconds of the period. This was a big lift, and we took a 3-2 lead when Carlos(our buddy filling in for Greg, who has a leg injury) scored another SHer. Bozos tied it again, but Carlos scored yet another SHer to put us up 4-3. In the third, I made a huge glove save on a tipped pass across the goal mouth, but on the ensuing faceoff, the center won the draw forward and lifted a shot that went off my shoulder and in. We got called for a very soft hooking penalty later, and they got the lead when the puck went to an open man on the far side of the net during a scramble. They scored an EN goal to end it. I think everybody stills feels pretty good after this game, even though we lost, because we did some good things against a good team, and made a very strong showing against a team that has hammered everybody else.
(6/8) vs Invaders - We got away with a point, which I guess isn't that awful considering we were trailing for most of the game, but it is considering we were winning with 1:32 left in the game. After Ed had made it 4-3, and after we had a goal go in and out off the roof bar but not counted, they scored #5 on a 2 on 1. However, Todd scored from the red line to make it 5-4, and then Ed scored on a nice give and go with Carlos to knot it, and then Gary scored on a backhand deke to give us a lead 6-5. Somehow, a fanned on backhand from a bad angle rolled underneath and in to tie it. So, we had to take the one point, but we need to start getting some wins.
(6/14) vs Hawks - Got another win under our belt, as we scored 4 goals and held them to one each period. We were down 1-0 after the first following a somewhat bad goal, but Jamie broke the ice when he made a nice move to the outside on the left wing, cut in, and flipped a shot far side. Carlos scored another in the second to get us a lead, and we never lost it. I played probably the strongest game of the session thus far, making many key saves on 2 on 1s, a breakaway, and several point blank shots. Jay scored the third goal when he tried to go to the backhand, lost control of the puck, but spun around and got a second whack at it and it found the net from a bit of a bad angle. Jamie scored what would be the GW, as they finally converted an odd man rush in the last few minutes. Todd was out tonight with an ankle, and Greg, Shane, and Mike are all still out. Things are looking up now, as we've hit .500 and looking to keep climbing.
(6/22) vs Auks - Close fought game the whole way through, but we came up a bit short. Jamie scored on a slapshot in the first to tie it 1-1, but we were trailing 2-1 at period's end. Gary scored on a tip in of Jay's pass to make it 2-2, and Ed would score the third to give us a lead. They finally poked one in on a sramble on a PP, though, and scored again in the early third to make it 4-3. Despite some great saves, they managed another goal following a pass/shot from the side of the net that found its way out front. After a couple of scrums and a scary moment as Gary went head first into the boards while wrapping up an opponent, Jamie scored again to make it 5-4, but it was in the dying seconds and time ran out on us. Gary suffered a "lacerated lip", shall we say, to put it mildly, but he'll be OK for next week. Speaking of injuries, thanks to Jason Schmidt for playing for us, as we otherwise would have had only five skaters. Shane is a possibility to return for next week.
(6/29) vs ? - ?:00