Hockey
First things first, here are links to the two greatest teams' websites, and the greatest goaltender's.(Don't forget to come back!)
Read about my current team - The Mustangs
I'm also associated with theHometown Phonebook Hockey Club. More Phonebook coverage is here
'Hawk Talk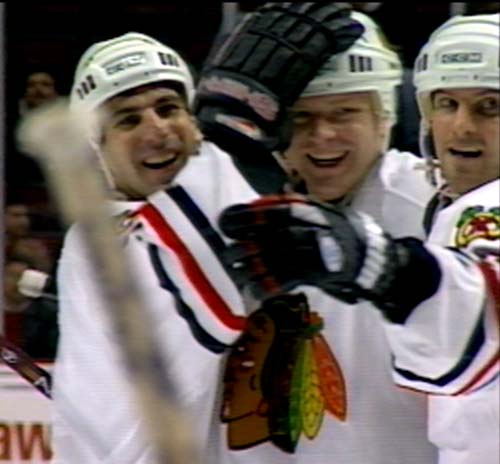 (9/20) Well, a pretty good start to the preseason I would say, beating the Blues 9-4. Good to see the youngsters scoring(White, Cleary, Dumont) and some tough play from the youngster Jones, along with Zmolek. I think the 'Hawks will benefit from the extra room behind the net. Opposing goalies will not be able to get to a lot of dump-ins, allowing our multitude of grinders to really forecheck and work the puck along the boards deep in the attacking zone. We shall see...
(9/26) Cleary looking pretty good with 4 goals in 3 preseason games
(10/10)Yes! Sounds like they were lucky to get it, but the 'Hawks start off with a 2-1 home win. Daze(a wrister from the red line) and Amonte(PP) score, and Hackett stands on his head, especially the first 40 minutes, to get the victory. Good to see the rough stuff, as six different players get into it - Nasreddine, Moreau, Royer, Jones, Janssens, and Probert. I heard the youngsters were kind of shaky in the first and second, especially the defense, and Chelios, Zmolek, Weinrich, and LaFlamme played nearly the entire third. Give them time, they'll come around.
(10/13)Gilmour gets another assist on a Kilger goal, but they don't have enough to beat Belfour and the Stars, one of the best teams in the league.
(10/15) Geez, the Ducks score one goal in their first three games combined, then score five against the 'Hawks. Selanne and Kariya always seem to kill Chicago. On the bright side, Gilmour(and I think Amonte) has a point a game. Zhamnov has been fairly invisible in the first three; he'd better get it going if Chicago is going to go anywhere.
(10/19)Looks like I spoke too soon, as Zhamnov tallies 4 points in the last two games. Daze gets the game winner against Montreal, and Cleary assists on Zhamnov's goal vs Dallas Saturday before scoring his first goal tonight in Montreal. This is exactly what the 'Hawks need; on a night when Gilmour and Amonte don't score, Zhamnov and Daze must step up. Plus, if they can start getting some goals from the youngsters here and there(ie Moreau's game winner against Dallas), they will be serious competitors this year.
(10/24)Wow! What a comeback! Again it was a bad start, but boy it's good to see the team show the ability to mount comebacks this year. Zhamnov gets another 2 points, Amonte and Kilger score 2(here's Amonte's second- what a move), and LaFlamme gets his first to tally 5 goals. Gilmour was great again, assisting on Kilger's first. As an aside, I'm glad to see Krivokrasov doing well this season, scoring his 4th of the season against his old team.
(10/28)
Well, I kept thinking that Shantz or Dubinsky would be dealt, but not necessarily both. I know that Allison is supposed to be a great prospect, but I had never really heard much about how he has progressed. Of course, who hears anything about Calgary? I know he was plus 3 last year, with 11 points, plus he's only 23. Shantz and Dubinsky were both great defensively, but we've still got Janssens and White(in minors). Leroux and Simpson(wingers) will be back soon, too. If Allison can become a top 4 D man, this should turn out pretty well.
Son of a bitch, I can't believe we were shut out by Arturs Irbe. The only goal(besides an EN) resulted from a clearing attempt hitting one of the TWO referees' skate. I knew that would somehow hurt the 'Hawks some time this year.

.
(10/31) Yikes, 7-3 to Florida last night. Probert deservingly got his first, as he has been one of the best forwards thus far, and Gilmour and Janssens score the other two. Gilmour and Zhamnov each have a point a game right now.

(11/1)Well... at least Daze is back. Not much else good to say.

(11/6)Managed to get a tie, as they ran into another one of my favorite goalies, Bill Ranford, after falling to Burke in Fla. the other night. From the sound of the last two radio broadcasts, they deserved to win the last two.

(11/10)I was in attendance for this one against StL. Moreau played a great game, scoring two, but nobody else did much of anything(besides the two enforcers - see below). Zhamnov got hurt after blocking a shot in the first, and only had one or two shifts afterwards. Also, Probert and Daze had maybe one shift in the entire second period. As usual, the Blues got a bunch of lucky goals. It sounds like a sorry excuse, but when a shot from the point hits a skate then the defenseman's head, and then lands right on the doorstep, you know things aren't going your way. On to the Leafs...

(11/11)Hate to see Russell go; he was a really hard working guy. He also had the longest tenure after Cheli. Good luck in Colorado Cam.

(11/13)Geez, what can I say? I know we didn't have Zhamnov and Janssens, and Chelios got hurt in the first period, but damn - 10 goals? This is about the third or fourth time we've surrendered over 4 goals, and it hasn't been because of the goaltending. I don't get it; we have basically the same defense as last year minus Suter, who wasn't exactly a rock in his own end. Watching Phoenix last night really made me wish we had Carney back.

(11/15) I'm running out of ways to descirbe losses, as they've done so in 8 of the last 9. Amonte and Gilmour continue to be bright spots, but there aren't many others. Why was LaFlamme, our second best defensive defenseman, scratched in a game when Chelios is injured? Bryan Muir, recently acquired from NJ(?), was put into his spot(and finished -2). Probert was a healthy scratch, too, with J.P. Dumont taking his place. Why did Trefilov start?

(11/16)
Well, a tie beats the hell out of a loss, especially when you've lost 8 of the last 9. Amonte continues to shine, scoring his league leading 12th goal. But the big news today...
I knew something was up when Hackett was scratched for the 2nd consecutive game, and sure enough, a six player deal goes down. I think the 'Hawks actually came out pretty good in this one. In Thibault, they get a younger goaltender who hasn't quite lived up to expectations(which are pretty damn high in Montreal), but still has some upside and time to progress. Hackett has been very solid for the team the last few years, but Fitzpatrick has shown he can handle the #1 job, so he became somewhat expendable. Manson is a great (re)addition. He is much more physical than Weinrich, and probably a little better in his own end. He was plus 22 last year, which is better than the entire 'Hawks team was. Nasreddine and Brown seems a pretty even swap; Brown has a bit more NHL experience, but Nasreddine may have a little more potential. We still have Royer for the future, however, and LaFlamme is still very young.
(11/17)
Another deal today, as Vopat goes as quickly as he came for Mike Maneluk of Philly. Maneluk, who had 8 points in 13 games w/Philly, at least has the potential to help the team more than Vopat, who will never be a twenty goal scorer.
How do you like that, a win! Amonte scores yet ANOTHER goal(13), the game winner(SH), and Zhamnov gets his second on the PP. Chelios should be back next game, and maybe Leroux, as he was listed as a healthy scratch tonight. Fitzpatrick had to stop 38 shots to pull out a 2-1 win, though, so some work still needs to be done on the defensive side. Probert had a great move on a breakaway(well, kind of a breakaway; a guy was practically hanging on his back trying to slow him up), but Dunham made a great save.
(11/21)
Leroux had successful surgery for his abdominal, and may be back in 8 weeks. I thought he looked really promising last year; hopefully he can return and contribute.
1-0 LA when I went to bed tonight.
(11/25) Two(well, three if you include Nikolai Khabibulin) reasons why we lost last night: several miffed opportunities in the first and second(Olczyck, Cleary, Kilger), and the defense/penalty killers were totally out to lunch for about a 2 minute span in the third. On the bright side, Zhamnov played a great game, and was the best forward along with Amonte. Also Moreau scored on an unreal backhand move, and Jocelyn Thibault played very well, beaten only on a screened deflection off a leg and the two times Tkachuk had about 10 minutes in the slot.
Big game for both Amonte and Zhamnov last night, and a good first period for a change, but 5 goals is too many to give up and win.
(12/2)
Got a win for a change the other night against Edm; Amonte is friggin' amazing. Glad we've got Cheli back, as we would have only had two goals without him.
Is it me or has Gilmour disappeared the last few games?
Probert was a scratch again the other night; think he'll be moved?
Al Morganti said last night that both Daze and Zhamnov will be on the move. I don't see why we should trade Zhamnov; he's been great the last three games and has 17 pts. in 22 games. That's not so awful is it? I know Daze only has 10 points, but 6 of them are goals, which is second most on team besides Amonte. Keep in mind that Morganti also predicted Vancouver to finish 5th in the West, which I don't foresee happening.
(12/3)Whoah, two wins in a row! Maybe the team is fianally getting on track. Zhamnov has another good game, scoring two, including this SH one handed breakaway. He scored one like that against Boston back in 95 with Winnipeg. Kilger got 2 also, including a nice backhand from a bad angle(it's about time he scored again, hadn't since Oct.).
(12/?) Zhamnov does it again with 2 goals, Amonte gets 2 more, Kilger scores in 2 consecutive games, and Olczyk gets his first. That makes three in a row; maybe the team is on its way out of the basement. They'll have to keep it up to get in the playoff hunt, though. The problem they're facing is that it's easy to lose 13 of 16 games, but it's hard as hell to win 13 of 16. Looking pretty good now. Where's Daze and Gilmour? A 7 goal game and they don't make the scoresheet?
(12/8)There goes the 3 game winning streak, along with Zhamnov's 6 game point streak. At least Daze scored, and Maneluk again. Fitzpatrick stopped 42 of 45; that's way too many shots.
(12/10)Another win against Edmonton, 3-1. Daze scores two, including this one after Probert made a good pass off the boards to Gilmour, who then hit Daze breaking down the right side. Watch Daze look over at Gilmour when he shoots to fool Shtaelenkov. Eddie Olczyk scored on a breakaway as well. Good thing we haven't dealt Daze and Zhamnov eh Morganti?
(12/13)About a perfect finish for my part, as my two favorite teams play to a 2-2 tie. Amonte gets #21, and Moreau continues to get better as he scores #5.
(12/19) Hmmm, that makes 2 losses in a row now; what happened to that good play the previous 8 games? Where's Daze? Fitzpatrick faced 40 shots tonight!
(12/23)You just can't figure it out: they lost to LA the other night, then they beat the best team in the league tonight. Gilmour finally pops in a PPG and a SHG, and Amonte continues to impress with #23. Good to see two PPG and a SHG, although they also gave up 3 PPG on 8 chances, two coming by way of JR.
(12/31)I think the trade of Coffey for Emerson will turn out to be a good one. Emerson is a solid scorer, and should score another 15 or so goals. Coffey could have been a big help once he was 100%, but the team needs to start getting points NOW, and doesn't have time to wait for him to get healthy. Nelson should see his first action tonight against the Isles; I'm curious where he'll play. It's tempting to put him with Zhamnov and Amonte to create a high speed line, but with Daze slumping of late, he may be with Gilmour to "spread the wealth" and provide two ggod lines of scoring. We'll see...
(1/1)Emerson pays dividends in his first game, assiting on the game winning(and only) goal by Probert. He sped down the right side and snapped off a quick wrister, and Probert went to the net and banked it in off Cousineau's skate. Not exactly the line I expected to see him on: Emerson/White/Probert? Two small quick players and a big, strong, not so quick player. Worked I guess.
(1/3)That's about 2 of the most disgusting losses you can have. I didn't see yesterday's, but losing 5-2 after taking a 2-1 lead to the third is disgusting, and tonight's game may have been worse. The team had a good start, Probert put a couple of good hits on, then Yawney takes a penalty. LaFlamme then got called for interference after a clean hit on Yzerman in the corner when the puck was in Yzerman's skates. Finally managed a goal by White, then Moreau, Brown and Probert all put some good hits together, and Koharski gives Probert a weak boarding call. Everytime they got some momentum going, a penalty just killed it. The winning goal was scored on a power play after Amonte got 2:00 after a scrum at the net. Kozlov pokes Thibault after the whistle, Yawney and Kozlov have words, then all the players converge and Amonte and Kozlov scuffle a bit. Why does Amonte get the only penalty? You just can't protect the goalies anymore. A lot of guys had strong games, especially Probert, Brown, LaFlamme, and Emerson. The top line was effective, and the Emerson/White/Probert line was effective. It really sucks how St Louis can play like total shit the other day against Nashville and sneak out a win, while the 'Hawks play really hard against one of the best teams and still lose. The only negatives were that Daze was invisible until the third, and Kilger was right behind him. On the bright side, Brad Brown looked like an upcoming superstar tonight, with a lot of crushing hits. At least some of the Detroit players will be hurting tomorrow...
(1/5)A tie beats a loss, but where's the offense? White/Probie/Emerson have been great, but how can a line of Zhamnov/Gilmour/Amonte go 2 games w/o a point? They created some chances tonight(Zhamnov hit the post once), but they must get something on the board.
(1/7) That really sucks, losing to the damn Blues after leading 2-0. I didn't see the first period, but they didn't generate a whole lot in the 2nd and 3rd. At least Probert and Brown were hitting, and Thibault played well. I would rather see anybody score the EN goal than Pronger; every point he gets is something soft or lucky. It's no wonder the 'Hawks complained to the league about the officiating - there were 2 awful calls that I saw and a terrible non-call against StL. They showed a clip of Probert hitting somebody with a good shoulder in the first and he got an elbowing penalty; even the biased StL announcers said it was a soft call. Then Manson got his stick on Eastwood on a breakaway and got a slashing call; the announcers even mentioned on the replay, "if that's the penalty, that's pretty disappointing. In the third, a Blues player left his feet(about a foot in the air) trying to hit I believe Olczyk, and there was no call.
(1/11)They can't seem to get a win, tying Nashville, then losing in OT to Colorado. Why did they trade Bonvie? At least they knew he was tough; the guy they got, Bialowa, has a whopping 3 assists in 24 AHL games!
(1/12)Looks like Amonte will be the only 'Hawk at the All Star game, doesn't seem right not having Cheli there. Looks like they're on their way to falling to Col. again, trailing 2-1 after 2. Alex Zhamnov has the only goal.
(1/16)Well, a win after a 7 game slump, as Maneluk chips in with a GW goal after Gilmour started the scoring. Tony got his 24th EN style, and Thibault was unbelievable again.
(1/20)It was great to see Brown score his first goal(this is a BIG file-~2.2M) in the tie with Phoenix the other night, as he has been a very gutsy, physical presence, and, I believe, a big surprise in Chicago. A nice pass by Maneluk, too, as he had to get it past two sticks of sliding defensemen.
(1/23) The team has quite a streak going(given the rest of the season): 2-0-1. Great pass by Gilmour to Emerson on the 2 on 1, and Maneluk seems to be coming around, scoring a PP tip-in. Thibault strong again, shutting out his ex-'mates; Hackett was pretty good too, stopping 34 of 36(Yes, the 'Hawks actually had 36 shots!)
(1/24)Amonte, as the 'Hawks' only rep to the All-Star game gets 2 assists and finishes +3 in the NA win.
(1/28) A good start to the second half, with an OT win over Edmonton. Amonte nets 2, including the winner, and Emerson and Olczykscore as well.
(1/29) Wow, six goals? It usually takes 4 games for them to score that many, and they still only tied. Amonte, Gilmour(2), Kilger, Moreau, and Zhamnov(GTG) get the tallies. That gives them a 1-0-1 start on a 7 game West coast trip.
(2/30) The trip is getting abit ugly, as they lose the third in a row, scoring a whopping zero goals. Probert and Leroux played very well; Todd White should have had at least 2 goals on the pucks they were digging out to him.
(2/10) Another loss, this time at home, as Chelios and Emerson muster the goals. Zhamnov and Maneluk were both scratches apparently. It really sucks how they keep dishing out penalties to Brad Brown. They complain how the game isn't exciting anymore, and then they throw the book on a great young guy who actually hits. If the puck isn't touching the guy's stick at exactly the time of the hit, it's interference. If the guy is under 6', it's boarding or charging. That blows.
(2/12)More of the same on the scoreboard, although it sounded like the team played a very competitive game, but the PPs killed them again - Detroit scored 2 PPGs, the 'Hawks didn't score any. Leroux scored his first goal of the season; it's a shame he ran into the injury so early this season, as he has been one of the bright spots since his return.
(2/13)The seven game streak is over, as they light it up for 6 goals in the last game at Maple Leaf Gardens. Amonte opened it up, and then Reid Simpson notched his first of the year. Gilmour scored on a goal from the side of the net reminiscent of his famous goal in double OT of game 7 in 1994 against the same goaltender, Curtis Joseph. Simpson then got his second of the game(and season) when he made a great move on a breakaway following a bad Leafs change. Daze stepped into one in the slot to make it 5-2, and Bobby Probert made a nice backhand to forehand move and wristed one upstairs to score the last ever NHL goal at the gardens. The line of Probert/Jansenns/Simpson was great all night. If the 'Hawks could do some of the things they did tonight consistently, they would have a shot at the playoffs. Besides scoring 6 goals, these things are: scoring on the power play, having 2 of the top 6 players score(3 did tonight), and having one other line chip in a goal(4th line scored 3 goals tonight). They mentioned on ESPN rumours of Gilmour going to Buffalo; they'd better be getting a hell of a good deal to pull that off, especially after signing him to a huge contract. They were also talking like Zhamnov would be going; I wonder who they think is going to play center?
(2/24)Long time since an update; I've been busy as hell. Well, Dirk is finally out of his coaching job, as many fans have been begging for since the first weeks of the season. I'm glad they haven't made a bunch of moves(although they still may do so), because I really think they have a great lineup, just not a good team yet. The younger players are getting better; they've just been inconsistent. The team has been scoring more goals of late; let's see what they do against the hated Blues tonight...
(2/25)Gilmour scores 2 goals, but Chelios made both of them happen - the first by driving hard to the net, and the second by beating the defenseman to the outside and making a great pass to Gilmour. Zhamnov scored on a wrister after he faked a slapper and changed up the angle on McLennan. The team wasn't all that great in the second period, and the first half of the third for that matter, as they were being out-hit at times. Fitzpatrick was excellent in his first start in quite some time, giving up only an Al MacInnis screen shot.
(3/3)Sunday's game vs Blues sucked for 2 reasons:
The team played possibly the worst period of hockey by any team this season in the first, when they allowed 3 goals and...
Emerson will likely miss the rest of the season with seperated shoulder following the Jamie Rivers hit. What's worse, nobody jumped Rivers' ass about it.
(3/9)Pretty good showing the last 2 games, as the youngsters shine in a 4-0 win vs SJ, and a tie against Vancouver. Dumont scored his first goal to grab the lead, and later his second vs SJ, along with Marha and Kilger. Daze scored 1st against Van, and then Moreau tied it as the Canucks scramble around the net.
(3/11)Things looking up as they score 5 goals(1 EN by Kilger) in a win over the Preds. The line of Dumont/Marha/Daze continues to impress with goals from Dumont and Marha, and the stars produce as Zhamnov scores on the PP and Amonte gets #30.
(3/13)Not quite the good result of the last game, but at least they scored 3 goals. Zhamnov had 2 pts, as he assisted on Amonte's PPG and scored one of his own, while Reid Simpson score his 3rd of the season(also his third in about year!)
(3/15)Looked good the first 5 minutes, even though they weren't really getting any shots, but they were controlling the play and skating well. After the Moreau penalty for closing his hand on the puck, things went downhill the rest of the first, and they never really got back into it until the last 5 minutes of the third, besides a few spurts that produced the Amonte and LaFlamme goals. Zhamnov, Amonte, and Moreau was really the only consistent line; Gilmour/Leroux/Kilger had their moments, but Kilger was invisible most of the game. Daze/Marha/Dumont were not as effective as the last few games, and were split up by the middle of the game. Probert had some good shifts, but didn't play much on the line with Cloutier and I believe Simpson. Fitzpatrick was excellent in relief of Thibault, who wasn't really bad, just had an outstanding Demitra shot go in, a deflection, kind of a soft one after his stick was knocked out of his hand, and a pass across the net that hadn't a prayer on. A five minute lapse in the first period killed them, when they couldn't clear their own end for anything.
(3/18) 'Hawks break the 2 game skid with a win over good ole Cal-GARY. Dumont scores his 4th, jumping on a rebound of a LaFlamme point shot, and Amonte scores the GW after Olczyk made a nice backhand pass over the defenseman's stick. Amonte received the puck on his backhand, then went to the forehand as he flew across the net and got it over Braithwaite's shoulder. He then added an EN for #34. The line of Daze/Marha/Dumont was back together for the goal, and Olczyk/Zhamnov/Amonte for the other 2. These lines must stick together. Now, if they could get one of the wings on Gilmour's line scoring they would be in business.
(3/20)A lot going on here:
Manson, Probert, and Zmolek are all put on waivers. Looks like there's a desire to filter out size and slower skaters. Manson has not played as well of late, but Probert has been good in the games I've seen, even though he hasn't scored much. Zmolek has been solid in most games I've seen too. Bob Murray gave the traditional explanation: "the team must go a new direction".
Here's the big deal evryone has waited for. The good news: they actually got Mironov, a talented 2 way D-man. The bad news: they gave up a very solid defenseman in LaFlamme and a lot of potential in Dan Cleary. Even if Cleary doesn't turn out to be a big scorer, did we have to give up Moreau, Kilger, AND Cleary? Granted, Kilger is invisible in some games, but Dean McAmmond isn't exactly Ron Francis either. I was just going to mention in my last post how well LaFlamme has been lately; so much for that. If Mironov continues to excel, though, I guess this will work out okay, especially if Marha can continue to improve and be a solid center.
(3/21) The team is looking pretty good; 1-0-1 is pretty good vs Colorado, today's game was one of the best games I've seen in a while. Not coincidentally, there were 7 "altercations" that really got the crowd and team excited; Probert got it going after they gave up the first goal when he got into it with Dingman. Mironov immediately paid dividends, as the power play looked very good, and he assisted on Zhamnov's PPG(Alex had 5 points this weekend). Amonte scored a nice SHG yesterday, and he got another SH'r today when the puck rolled on end on Roy as he tried to make a pass. McAmmond also paid dividends today, as he ended up getting the game winner when Gilmour made a crafty pass from behind the net.
(3/24)
I don't know what to say. Strictly a money move, I guess. I don't know how to watch a Hawks game without Cheli roughing up people in the corners and making life miserable. All I know is that Detroit will be a lot tougher now; think how good Chelios will be on an already solid team, where he doesn't have to worry about doing everything. Look out Colorado, Phoenix, and(sorry to say) Dallas in the playoffs. I know they've always been high on Eriksson, we'll see what he can do...
Emerson is off to Ottawa, but I figured he would be off somewhere. So, our deal has now basically developed into Coffey and about 4 goals from Emerson for Chris Murray. Hmmm...
And finally, we lose our first game w/o Cheli 5-2, as 5 goals go in the first 31 minutes. Zhamnov continues his good play with a PPG from Gilmour and Mironov, and Simpson tallies agin from Muir and Olczyk. He also had a conference with Matthew Barnaby.
(3/26)Boris gets us a tie with the Bs, while Probie and Amonte score the other 2. As an aside, while watching the Edmonton game tonight, LaFlamme has been the best D along with Hamrlik, and Kilger has actually played a physical game! Moreau also drove to the net once to get a good scoring chance.
(3/29)
Well, finally beat the Blues at UC and scored a PPG against them. Amonte gets #38,39 and 40.. Fitzpatrick stopped 36 of 37, and has both wins against StL this season. Zhamnov continues his streak of points with an assist; he had 3 on Saturday, including one on this game tyer by Charlie Manson.
VandenBussche was back up for the NJ game, but was suspended for his fight with Oliwa for a headbutt; I didn't get to see myself.
Supposedly Gilmour is out for the season with the disk problem. The only upside is maybe we can see what the young centers can do, since the playoffs are lost anyway.

(4/1) Amonte and Zhamnov's scoring streaks finally end, but we still win as 2 of the "waivers guys", Probie and Charlie Manson, score the goals.
(4/2) Besides the shorthabded situations, I thought the team was pretty good, even, though we were losing 5-1 most of the game. How can that be you ask? Two reasons: some bad breaks and Bill Ranford. Fitzpatrick was strong, too, especially in the first 15 minutes. Probert played a great game; he blocked a point shot after he got out of the box to get a breakaway, on which Ranford made a great save. Then, he followed the rebound behind the net, fought it back out to the front and got off a shot that I'm still not sure how avoided going in(think it hit somebody in front). Even Gary Thorne said, "Shot, sco... no it didn't go in!" Amonte ripped one through Ranford off a great Zhamnov pass in the first, but it just knicked the inside of Ranford's leg and bounced off the post. Daze, Dumont, and Simpson ended up scoring. They actually got one in off a face off right at the end of the game, but time had run out.
(4/5)Team continues to play well here at the end of the season with a couple of wins against Carolina and Vancouver. Daze scores this GTG vs Carolina(Probie got the GW), and both against Van. in the 2-1 win(here's the first).
(4/15) Hawks continue to win, beating Nashville 4-2. Zhamnov got his #20 for the game winner, giving him at least 20 in I believe every season he's played. Probert and Olczyk also scored, and Amonte got an EN right at the end. J. Y. Leroux had a nice bodyslam on BOughner, I might add. Oh by the way, here's Tony breakin his personal goal record the other night.
(4/18) Strong finish to the season as they top Detroit 3-2. They were playing an awful lot in their own end at times, but kept down the # of really good scoring chances, and cashed in on their own. Dumont scored about 2 minutes in, after Marha made a nice move to get into the clear. McAmmond had about 3 great chances in the first period. Olczyk backhanded one over a sprawling Osgood after he had made the first save, and Amonte rifled in the game winner from the high slot. Zhamnov put it right on the tape while taking a hit on the near boards..
---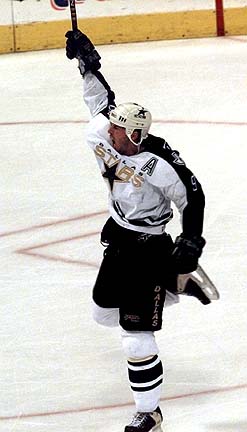 Stars Stuff
(10/2)Gus Adams taught them not to let him go on Wednesday, scoring the winning goal for Phoenix. I hope to see him stay healthy this season and have a big year.

(10/3) Good to see Hull burn the Blues for the first time tonight in a 5-2 win.

(10/10) Modano, Lehtinen, Sydor, and Verbeek score, and Eddie Belfour stops 27 in a 4-1 win over Buffalo. If Modano stays healthy the whole year, look for him to be a Hart finalist. Man, the Stars power play looks deadly early on.

(10/13)Eddie Belfour shines along with Verbeek and Modano as they top the 'Hawks.

(10/21)Stars continue to pump in the PP goals, beating Calgary last night. Sydor had I think 3 points, and leads the league in scoring with 10 points.

(10/24)What can I say? More of the same - PP goes 2 for 4, Sydor continues to score points.

(10/31)Nieuwendyk's back with a bang, scoring two last night in a 3-3 tie vs Anaheim.

(11/1)Hull has his first two goal game last night against the very team he's supposed to help beat, Detroit. Great pass by Modano on the game winner.(check it out)

(11/11) Stars lose for the first time at home at the hands of Phoenix, mainly because of Jimmy Waite. This was an exciting, hard hitting game.

(11/13) Stars clobber Detroit at Joe Louis, as Nieuwendyk scores 7 seconds into the game and finishes with 3 points. Modano and Hatcher each got a goal and an assist, and Sydor and Grant Marshall add the other goals in a 5-1 win. Eddie Belfour stopped 34 shots along the way.

(11/15)Hull gets his 1000th point on a goal from Modano. Lord Byron is the (un?)lucky victim.

(11/21)An odd 3-3 tie against StL, as the team played well the first 35 minutes, and then let the Blues kind of walk all over them in the last 25. Modano scores, and Langenbrunner scores on the PP, while Grant Marshall scored on a nice move after a nice pass from Carboneau. Carboneau has to be considered one of the most underrated players in the league; he made several great plays to keep the puck in the zone tonight, one of which led to Marshall's goal. Remember last years playoffs vs Edmonton when he dove behind the net to block the clearing attempt, got up, hauled ass back out to the blueline, faked, then fired it in to send the game to OT? Hull didn't play, of course, due to his injury in last night's game. The StL media has really been getting on my nerves lately with all of this Brett Hull stuff(his comments about ice time last week). It has been blown way out of proportion, and they make it so negative. When he was here, he was a "stimulating,insightful, and provacative player", now the other day one of the Blues announcers said regarding the comments,"YEAH, we knew it wouldn't take long for THAT to happen", like he was a big problem for StL, and he was glad he's not here to do that anymore. Give me a break.

(11/27) 4-0 win over Caps, as Modano and Hatcher each get two.

(12/6) Stars continue to roll, and some of the third line guys are contributing(Marshall, Reid, Skrudland). Lehtinen continues to be excellent scoring 2 goals.

(12/11)PRETTY game winner by Langenbrunner against Montreal, as he took a pass down low, then skated across the net and fired in a backhander.

(12/13)About a perfect finish for my part, as my two favorite teams play to a 2-2 tie. Hatcher and Verbeek provide the goals, as they get a point out of the UC.

(12/15) Talk about spreading the offense around! Ludwig and Lehtinen are the only players who didn't have a point in the 7-3 win against StL. Hull gets 2 against his former team in his first game back since the injury. It's scary how good this team can be; they made a bunch of mistakes in the first(2 led to goals) and still blew the Blues out. Some great passing/movement on the Verbeek and Skrudland goals.

(12/19) They did a good job on the Wings last night, as they played very aggressively, not allowing Detroit to make the outlet passes or get any speed through the neutral zone. This also forced MANY turnovers, that led to scoring chances. Great effort by Keane on Verbeek's goal, and a great shot by Lehtinen on Modano's centering pass. That sucks Belfour lost the goose egg with 2:xx left to go, but still a great effort.

(12/23)Modano, Hull, Modano, Lehtinen, and Modano score as Stars roll over the Leafs.

(12/29) I missed last night's game, but here's Chambers tipping one in en route to victory.

(1/1)Ludwig the Magnificent breaks his goal-less streak of 100 something games, as Stars roll over the B's.

(1/12)Eddie, Modano, and Sydor are all selected to the all star game today. Verbeek and Lehtinen have scored as they lead Edm 2-1 after 2.

(1/16) All Stars over the Ducks, in a 3-1 win. Modano had a goal and 2 assists, and Lehtinen had 1 and 1. As John Bucciagras mentioned on NHL 2night, how is Lehtinen not an all star?

(1/24)The Stars were among the best All Stars, as Modano gets a goal and 3 assists, Sydor adds a goal for the NA's and Belfour stops 12 of 14 World shots. One that got by him was from teammate Sergei Zubov, tallying for the World team.

(1/28)Nieuwendyk back in style, and Hull starts off the scoring in a 3-2 win.

(2/24)Fell behind 3-1 to Preds but Verbeek scores and Modano completes a hat trick to get the comeback victory.

(2/25)Hull has really been on a roll, it's a shame he got injured now. However, it's only supposed to be a strained hamstring, and should only keep him out 2 weeks or so.

(3/9)Always nice to beat StL, as Modano, Lehtinen, Langenbrunner(on a great pass by Hrkac), and Verbeek score. Roman Turek saw 34 shots, Jim Carey saw 22 in his Blues debut.

(3/11)Geez. take it easy on the Oil guys; 7 goals by way of Nieuwendyk(2), Modano(2), Carbonneau, Marshall, and Verbeek.

(3/13)Nieuwendyk gets 2 more(20), Modano gets #29, and Hrkac scores his ninth, while Eddie Belfour gets his 5th SO of the season, stopping 27. It was Belfour's 7th career blanking of the Ducks, and made him 14-3-1 lifetime against them.

(3/26) Here's Modano feeding Hull for the game winner over LA.

(4/15)Here's Modano scoring one of 6 Dallas goals in the eventful win over Phoenix.

(4/22) First playoff win out of the way, although Salo and the Oilers made it close. Took this goal by Carboneau to get the win in the third period.

(4/27) Been too damn busy to update. Up 3 games to none now, although all of the games have been decided by one goal. Hatcher being out may actually be a benefit later on, as he'll have one less series of wear and tear. The shot by Langenbrunner on Friday was the best shot of the playoffs so far; Selanne's in their game 2 and Sundin's in their game 2 are right behind. Lehtinen got the winner in Friday's game.Nieuwendyk scored the GW Sunday after Modano and Keane finally scored.

(4/29) Took nearly six periods, but Nieuwendyk finally ends the series as Zubov's shot hits his leg after Hogue did some nice work behind the net. Looks like Phoenix is next in line...

(5/7) Eh, Phoenix, St Louis, doesn't really matter. Eddie gives the hapless Blues nothing, and Verbeek, ex-Blue Hull, and Modano(EN) tally the 3 goals.

(5/9)That's what makes this team so tough to beat - if they have an off night defensively, they can still beat you in a high scoring game. We're starting to see why Dallas will be a lot tougher this year with a healthy Nieuwendyk - he scores the Game Winner in OT after scoring this one to tie it at 2.. Langenbrunner opened the scoring, while Keane and Lehtinen scored the 3rd and 4th goals respectively.

(5/16) That looked more like the real Stars - playing tough, physical, and great on the special teams. Lehtinen opened it up SH followed by goals from Langenbrunner and Nieuwendyk again.

(5/18) So long for St Louis, as Modano gets 'em in OT after Hull made a great play off the back of the net to get it in front. Serves the Blues right - it bugged me how at the time, all the execs were like "the team is taking a new direction" and "we feel this is the most beneficial thing to do with the organization", and then later, after Hull left, it comes out about the personal conflicts. Why can't they be truthful to begin with?

(5/25)Stars bounce back with a very strong effort and a 4-2 win. This was a classic example of a goalie making a huge save at one end(Eddie made an unbelievable stop on a 2 on 1) and then the other team comes down and scores(Modano makes a short drop pass to Zubov, who blasts it back Patrick)

(5/27)Eddie steals the show in Col, and Niewendyk gets all they would need. Langenbrunnerand Dave Reid made sure of it. I'm glad to see Reid come on lately, especially after the othe rnight the announcers were saying he wouldn't help the 2nd line much because he's not really an offensive player.

(6/2)"Stars Stayin' Alive" - There'll be a game 7, thanks to Lehtinen and a 1 and a 2 from Langenbrunner, and also an insurance from Matvichuk.

(6/5)"Finals Bound" - Bill Clement hit it on the head, when he said that this game looked the most like the Stars type of hockey. This was really the first game that fit the bill since the Edmonton series. Langenbrunner continues to excel in the playoffs, scoring the first goal.Keane stole the show, however, with a quick wrister from the slot, and a great move on a 2 on 1. Lehtinen finished it off for good, when Patrick was getting a bit carried away, and Modano forced him into a blind pass. On to the Sabres...

(6/13) The team seems to be getting it back together, but this is getting scary with all of these players getting hurt. Game 2 was very exciting, even had some rough stuff after the first. I had to miss game 3, but here's Nieuwendyk roofing in the game winner

(6/20) They have finally done it, proving any disbelievers wrong. For some reason it seemed that everyone thought they would finish with the best record and lose in the playoffs again. Not so, as outstanding performances by Belfour, Nieuwendyk, Modano, and really everyone lead them to the first Cup. Selecting the Conn Smythe winner had to be the most difficult it's been in years, as the 3 aforementioned players were all crucial in the cup run. I was glad to see Hull get the winner, as he had a good playoffs, but was criticized a bit for not putting up bigger numbers. This was easily the best finals I have seen in a long time - great goaltending, intesity, physical play, and determination.
---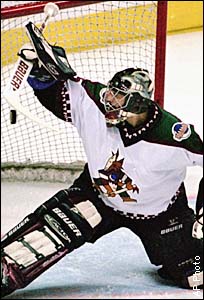 Goaltending
(10/6) I'm a little confused as to why Edmonton dealt Fichaud for Shtaelenkov, as Fitch is very young and promising, while Shtaelenkov is 30 something and solid.

(10/9)
What a great opening night of goaltending! VanBiesbrouck(check out that new helmet!) and, especially, Richter were outstanding. Two of my favorites, Billy Ranford and Sean Burke, had great games in their debuts for their new teams. Ranford made one that may still be on the highlight reel at season's end in the midst of a tough 4-1 loss.
(10/10)Kolzig, Beezer, and McLean already have goose eggs. Good to see McLean have a good outing; I think he can still be a great goaltender. Watch for Burke and McLean to surprise evryone(except me) and be one of the best tandems in the league.
(10/12)Lord Byron looking good, as he was great in a 3-3 tie w/StL Saturday, and goose eggs NYI today. He's probably my favorite young goalie right now.
(10/13)Great saves abound in the 'Hawks /Stars game, as Belfour made three consecutive scrambling saves on a 'Hawk PP, and Hackett dazzles with a glove on Modano in the third.
(10/14)
Dafoe does it again shutting out the Avs 3-0, extending his shutout streak to 151:29 minutes. Salo gets one against Tampa, too.
Looks like Guy Hebert has ditched Heaton, turning to Bauer for his equipment. I wonder if Karhu got pushy after he had a mediocre season last year...
(10/17) Tommy does it again, this time against St Louis(hee-hee). He had some tough shots to handle, especially in the last five or ten minutes as the Blues desperately tried to tie the score.
(10/19)Good to see Fitzpatrick have a strong outing in his first Chicago start. I think he had a tough situation to walk into, as a lot of people were upset at Terreri being traded(basically given away) after he played so well last year. Keep it up Mark.
(10/21) Wow, you know its early in the season when Arturs Irbe is second in GAA! I give him credit though, he's had a couple of great games. Give him time...
(10/27)
Richter and Hasek battle to the double goose egg. I'm surprised Hasek was able to deal with only 16 shots, he's accustomed to at least thirty a night. That sounds stupid if you're not a goalie yourself, but any pro will tell you the same thing.
Man, Patrick Roy is really...well... not himself this season. In the game vs Phoenix last night, he gave up 4 goals on straight on, first shots, something you don't see happen to the top guys. I wonder if he has a slight injury bothering him.
(10/28)A tough night in the nets, as Brodeur, Kolzig, Burke/McLean, and Theodore/Thibault get roughed up pretty hard. I don't think the goaltending is suspect in Montreal like everyone says - I didn't see a single bad goal in their 9-2 loss, just some horrific defense.
(10/31)
Fitzpatrick has played well enough to get consecutive starts for Chicago(though Hackett came in for the second last night); looks like he's going to be a good fit.
Turek stops 31 in what was I believe his second start.
(11/1)Injuries to Storr and Fiset allowed Manny Legace to burst onto the NHL scene this week, but LA hasn't done much scoring for him, and Khabibulin shuts them out tonight.
(11/6)Looks like Fitz has taken over the #1 spot in Chicago, as he's started the last three or four, and has played great.
(11/10)Well, Hackett played against StL, and had a rough time. He played a great game really, but had a lot of lucky crap go in, including one off his arm from behind the net. He had about four or five huge saves, and faced 42 shots total(4 GA). He has switched to using some Vic equipment that I am unfamiliar with. He had worn Vaughn for his entire career.
(11/11)Jimmy! Hell of game by Jimmy Waite in Dallas, stopping all 37 in a 2-0 win. Coyotes must be breathing easier now, knowing he can handle things when Khabi gets hurt or slumps.
(11/17)Beezer was great in the Philly/Pittsburgh game tonight, especially in the first period. The youngster Aubin had a crappy thing happen to him; he came on for Barrasso with about 3 minutes left, and headed to the bench at the 1:25 mark. When he was about 3/4 of the way there, however, LeClair got possesion and ended up shooting it into the empty net. Thus, his GAA for the game was about 45, and his SP 0% since that was the only shot he "faced". Tough to swallow, eh Jean Sebastian?
(11/27) Eddie Belfour finally got his first shutout; who'd have thought it would take this long? Actually, it can be a lot harder to get that shutout when you don't see many shots. If you're not a goalie yourself, that's hard to understand, but it's true. Looked like he lost it with :58 to go, but Konowalchuk was in crease. That still kind of sucks, though, knowing one went in, even if it doesn't count.
(12/6) Osgood was wearing the Bauer 3000 blocker last night. Kind of funny, Mike Vernon wore that model for a while when it was still under the Cooper name. It's usually considered a "semi-pro" model; it's very lightweight, but it seems like some NHL shots would sting with it. Of course, his is certainly a little different than the production units.
(12/15)What's going to happen in TB? They obviously aren't happy with Puppa and Ranford, as Corey Schwab has played the last several games.
(1/5)Late report, but congrats to Damian Rhodes for his goal. Maybe he didn't shoot it in, but it counts just like Brodeur's, Osgood's, and Hextall's(2). Billy Smith's goal was on a similar play, where a team shot it in their own net on a delayed penalty.
(1/7) Hate to see Fichaud go down for the season, as he didn't even have a win yet. Nashville has to be sweating a bit, down to third stringer Voukon. At least they're in better shape than Calgary, who has seen Wregget, Giguere, and Moss all go down with injuries.
(1/12)Three goose-eggs last night, as Khabi, Beezer, and Vernie shut 'em out. So we have Brodeur, Belfour, and Joseph set for North America vs Hasek, Irbe, and Khabibulin for the World All Stars. Sounds like a good matchup, although I think NA should have the edge in the 2nd period.
(1/13) Beezer's got a hell of a streak going - 3 gooseeggs. Actually, he has parts of 3 1/2, as he shared one with Hextall.
(1/16) A great night of goaltending!
Tomas Vokoun lands the first SO in Nashville history against Phoenix of all teams, who was the last remaining team that hadn't been shut out.
Hackett put the zero on the caps, and...
Hasek and Dafoe have a great battle in Buffalo, Hasek ended up winning 2-1, but Dafoe had tougher(though fewer) shots, and had the best save of the night as he did a sideways reverse somersault to stop a Sabre on the doorstep(I don't think they teach that maneuver at goalie schools anymore).
(1/17)Another strong night for the goaltenders:
Hackett gets his second SO in as many nights.
Roy shuts out StL for the third time this season at McNichols. The Blues fired 85 shots at him in the three games, and got no goals. Way to go Patrick!
Burke gets his first SO against the Isles as Potvin still searches for his first win as an Isle.
Hasek stops 38 of 39 to preserve a 1-1 tie with Ottawa.
(1/24)Interesting Skills competition last night, with the new Goalie Goal feature, who would have thought Brodeur and Belfour wouldn't score and Hasek would? Tugnutt ended up with the decision, though Khabibulin had the best performance, stopping 14 of 15 shots.
(2/25)Things not getting any better for Felix, as he aggravates his groin in practice, and will be out at least a month.
(3/9)I've been waiting all season for NHL.com to put up a great save, and Beezer finally makes it. Funny they do it now, since Philly has lost 5 in a row.
(3/18)Well Shtaelenkov is now a Coyote, which leads to the question "Why the HELL is Jimmy Waite in the MINORS?!!!!"
(3/20)
I read today where Jimmy Waite cleared waivers, and had lost a lot of weight(not Waite), which may have attributed to his skid; he has always been subject to dehydrating. Hence the Shtaelenkov deal...
Felix now has the reigns in LI, as Salo lands in Edm to help out Bob Essensa in the Oil net, after they shipped Shtaelenkov to Phoenix. I think all teams are lucky these deals went through so smoothly.
(3/24) Billy Ranford in Detroit? This should be good for both of them; Billy should play excellent on a solid team, provided his shoulder is OK. I think that's the sole reason he's been so inconsistent the last few years, because he hasn't really been 100%. He was great after the surgery, but it may be acting up again. We'll see how much he plays...
(4/2) Ranford was very good in his first Detroit start tonight. He made several great acrobatic saves(I liked the headstand recovery in the first period) at critical times in the game. Game could have easily gone the other way had he not been at his best.
(4/22) How about Tom Askey? That had to be the most nervewracking situation you could be put in. He did a good job, really, despite the mistake in the last 2 minutes.
(5/7)What a situation - Ranford gets the start for an injured Osgood, and outplays Roy to get Detroit the win. Great pinch in by Chelios to lead to Maltby's overtime winner by the way.
(5/9)Billy again gets the big win, stopping 28 en route to a 2-0 SO at the expense of the Avalanche.
---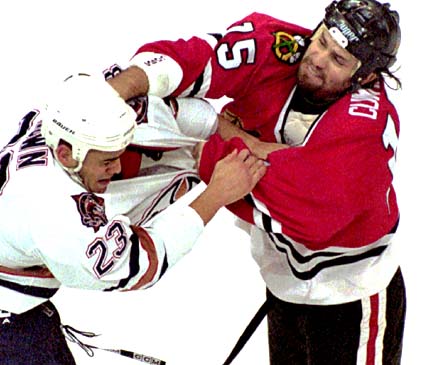 Tough Guys
(9/20)Some good things in the opener for the 'Hawks, as Zmolek and Jones drop 'em, and they have what the Tribune called a "free for all" in the third. They definitely have the toughest TEAM in the league again, with Probert, Simpson, VandenBussche, and Zmolek, not to mention Leroux, Russell, Chelios, etc. Again, the team part is important; they've had some tough PLAYERS the last few years, but not necessarily a tough team. That should definitely help out, maybe even allowing them to finish over .500 at home again.
(10/2)Apparently Probert hopped over the boards to get at Blouin in the Montreal game last week after he plowed Cleary from behind, but somehow the TWO referees didn't notice. Oh well, way to go Bob!
(10/9)
Not a whole lot on opening night; JovoCop into it with Tucker I heard, but not much else.
Here's an interesting note: Stan Fischler predicts that when "alleged Heavyweight Champ" Tony Twist faces Darren Langdon he will become ex-champ. Quite possible, as he had one of the best fights of last season with Domi(VandenBussche/Kordic was a close second) and a couple good ones with Probert. They play each other for the first time Monday night at the Garden.
(10/10)
Sounds like Cote did pretty well against Laus in Nashville's opener; look for him to make a name for himself this year. He held his own pretty well last year against Cummins and Twist, and will probably get into a lot of fights as Music City's main on-ice patrolman.
The rough tough 'Hawks seem to be back; Probert did a pretty good number on Lakovic, who fought Nasreddine and Royer earlier on.
I know it's early, but Grimson and Berube have the title of best fight of the year so far. Stu scores a slight decision.
(10/13) Wow, a good one between Probert and Severyn. Severyn landed a couple solid lefts, but Big Bob dropped him with a right to end it.
(10/14)Way to go Gino Odjick, scoring the Game winner for NYI. Baumgartner and Odgers had a pretty good one tonight, with Odgers getting a pretty good knick on his forehead courtesy of Bomber's left. Bomber is one of the best at throwing both hands.
(10/19) A couple in the Chicago/Montreal game that I didn't get to see: Probert and an apparent rookie named Morisette, and Cam Russell and Terry Ryan. The latter sounded pretty good(I heard it on the radio), with a lot of swinging and connecting. I think Russell is a better fighter than he gets credit for. I think it's because if he ever gets hit, he gets it pretty hard because he's more of an all offense, no defense type of fighter. He may lose to a heavyweight now and then(not everybody can be Probie you know), but has a lot of heart and is willing to go with anybody to help out a teammate.
(10/24)
Probert has another good one, this time with Cote, whom I mentioned before.
McSorley got hammered by Odgers a few times, but the linesman was holding on to him and Odgers had an unfait advantage to start. Another case of where there would be less chance of injury if the officials would "let them go", especially in a case such as this, where it was obvious that they wanted at each other.
(10/28)Hmm, this guy Dave Morisette looks like the real deal, as he fought Baumgartner to a draw tonight.
(10/31)Grimson and Severyn last night, but I didn't get to see it; probably a pretty good one.
(11/3)Langdon wins again, this time in the first period vs Oliwa, a much bigger fighter. Bill Clement had a pretty accurate description of Langdon as a "smart fighter." He kind of takes his time and gets situated, maybe even taking a few in the process, to get a good hold/position. Probert fights this way against people he knows can pack a big punch(his buddy Kocur, Twist, McSorley, etc), and Stu Grimson has become a much better fighter the last couple of years because he has learned to fight smarter.
(11/6)Way to go Jimmy Cummins, scoring his first goal in almost two years. I'm surprised it's been so long, as he's really a solid player and gets a regular shift.
(11/10)
Gino Odjick got his third, a game winner, the other night on a nice redirection.

  A great tussle in the Blues/Hawks game between Dennis Bonvie and Tony Twist.  Twist
had a lot of big swings, landed 3 or 4, and Bonvie connected  2 or 3 short punches
during the middle portion of the fight.  Bonvie did a good job of staying on
his skates in a long fight, as a lot of guys lose their balance against Twist
as he throws those big haymakers.  I'll call it a draw.
   Reid Simpson scored the decision over Chase a few seconds later, as he was able to
score a few hooks to the side of the head, and Chase was never able to throw a
punch before they went down to the ice.
(11/11)
Langdon and McCarthy went last night, but I was at the Blues/Hawks game and didn't get to see it.
Go Joe! Kocur scores 3 points(2,1) in the first against StL.
(11/12) I missed Domi and Probert tonight(what was that now, round 12?).
(11/17) Wow, I just saw a clip of Bonvie and Ray from the other night; Bonvie ate a pretty tough left from Sugar Rob. He'd better go back to fighting Tony Twist.
(11/23)Did everybody see Stu put one in against the 'Hawks? You didn't? Well hereit is. Looks like he knows what he's doin' between the circles, eh?
(11/28)Good one tonight between Laus and Ray; Laus got the better of it as he had the right free and appeared to land a couple big ones.
(12/2)Much ado about nothing as Scott Parker doesn't have a fight in his first two games, after a big deal had been made of his call up for the Detroit game.
(12/3)Damn, I missed Probert and Grimson. Anybody see it? Let me know
(12/4)Well Parker finally had his first, with Tony Twist. It wasn't a slugfest by any means; no big shots landed. He is obviously big and strong, as he was able to hold Twist at bay for the most part. The only problem was he didn't look adept at throwing the left; Twist just stayed turned away from the right and was pretty safe, as Parker never tried to switch hands. He has a lot of potential, though, and a pretty cool beard as well.
(12/6)Parker is now 1-0-1 after a bout with Poeschek last night; it wasn't a big decisive victory, but he was in control for the most part. Actually, Poeschek and Odgers was a more entertaining fight, with a lot more swings.
(12/16) Chase and Hatcher had a good bout last night. Man, Hatcher has a big right hand! When he swings it's like a jackhammer; luckily the much smaller Chase is pretty smart at avoiding punches and only took a few glancing blows, allhtough he did get cut on the cheek.
(12/19) Hatcher has another good one, this time with Shanahan in the first period; both guys got knicked up in this one. There was no clutching and grabbing in this one, just all out swinging.
(12/19)Anybody see Simpson and Vopat? They must have had something going, as they went twice. Wonder if they had any disagreement when Vopat was on the team briefly?
(1/7) Pretty good job by Bonvie against Twist again, as they meet for the second time this season; still couldn't quite get the decision, although each only landed one or two clean shots.
(1/16)Cummins and Cote have it out in Nashville; Cummins probably remembered their bout when they were in Chicago playing the Stars two years ago. In that bout, Cote got the best of him with an uppercut that dropped him to his knees; he didn't get the better of him last night, however, as Cummins had him all tied up and trying to look through his jersey.
(1/17) I just read in the local St Louis area paper that "Colorado tough guy Scott Parker may not want to tangle with Tony Twist after taking two hard shots to the head from Chicago's Bob Probert." I hadn't even seen that the two had fought. Anybody see it?
(1/25)Wow, Parker was sent down after receiving a concussion in the fight with Probert. And they say Probert's too old and isn't that tough anymore...
(4/15)I believe Probert and Cote have fought in all 3 Chicago/Nashville games at the UC. Vandenbussche has yet to have a fight this year(eveyone is probably leary, remember Nick Kypreos?). He must have come close tonight, as he and Lambert got misconducts.