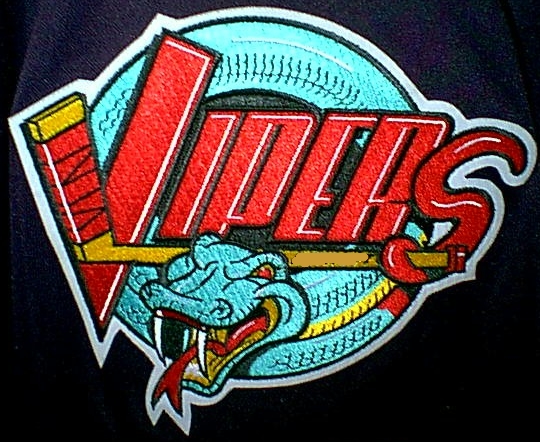 Winter 2000
Roster
| | |
| --- | --- |
| Bryan Hausmann | 1 |
| Mark Hausmann | 3 |
| Matt Edler | 3 |
| Scott Dufford | 5 |
| Eric Kharibian(sub) | 5 |
Wow, we're back after a remarkable last session. After a rough first two games, we got things together and proceeded to win 10 games in a row en route to taking the league championship after a dramatic shootout victory in the final game. We've added a couple guys for stability and depth, which we already have, so we should be in good shape to defend our "title".




Schedule
12/14/00 vs Auks - 9:00 - A resounding victory to begin the season, with about everybody picking up points. Phil notched 3 goals, while Scott, Eric, Matt, and Kurt added 2 goals each. Additionally, Chris, Jamie, and Mark added goals. All said and done, the game ended at 14-4. Looks like we should have some offense this session...
12/21/00 vs Team X - 8:00 - This was a close exciting game and it seemed no one would score until Eric pulled the puck to his backhand and then slid it by the sprawling goaltender. A bit later, Matt broke out on a 2 on 1 with Chris. Matt used Chris as the decoy on the left side and wristed a low shot into the far side. In the second period, Mark batted in a bouncing puck right along the goal line after an initial shot from Phil. The game winner came when Phil centered the puck to Jamie, who one-time backhanded a shot that got through the goalie. Eric added his second late in the third from the left circle to seal the win 5-3.
12/28/00 vs Meat and Potatoes - 8:00 - How do I even describe this game? Let's start by saying that we were shorthanded about half of the game, so we couldn't get much flow going. Chris was ejected early for making a noise from the penalty box, and Jamie was absent due to work. Mark snuck a shot in off the post on an early power play(I think the only one we had). The score was held to 1-0 until midway through the third, even though we were outshot pretty badly. Finally, a pass in front was one timed in, and they scored another following a turnover in the low slot. The killer was a bad angle shot that surprised me a just found a hole. This really pissed me off, especially after I had played so well all through the game. The worst part was that it turned out to be the game winner because Scott scored with about 1:30 to go. I got off for the extra man at about :40, but we couldn't get the tying goal. So, finally a 3-2 loss after 12 staight wins.
1/4/01 vs Large Clips - 7:00 - Geez, we've lost two in a row now, and to a somewhat shabby team. We surrendered the first goal, and then Phil answered. Jamie ripped a high shot at the end of the first to put us up 2-1. We did nothing in the second, however,and we were tied 2-2 at the end of the 2nd. The other team scored on a rebound, but Phil blasted in a tying shot soon after. Scott got called for delay of game when he caught the puck before playing it behind the net, and we gave up a PP goal that spelled the end 4-3. Our passing was very, um, well, horrendous is a good word for it. We must start clicking on all cylinders again.
1/11/01 vs Bulldogs(?) - 8:00 - Forfeit win
1/18/01 vs Auks - 9:00 - A pretty strong game to start back on the winning track, although we gave up a few too many chances. Eric and Kurt both played as Scott and Matt were out. Eric contributed a goal and some strong puck carrying, while Kurt added at least one assist on Jamie's second goal, while playing solid otherwise. Phil scored two goals, and assisted on another when Shane drove home a rebound of Phil's initial shot. Chris scored our other goal and also made a great sliding defensive play in our end in the third period. The other team only managed one goal, which deflected off a defenseman's stick, while I played a solid game.
1/25/01 vs Team X - 7:00 - We played very lousy the first two periods, myself in particular and were down 5-1 by the start of the third. We were quite a bit better in the third, outscoring them 3-1, but it was a bit too late to mount a full comeback. Shane, who may have played the best all around game of anybody, scored our first goal banking it off a skate. Phil scored the second early in the third when Eric found him from behind the net. Chris(I think) netted the third, and Scott scored high short side on a 2 on 1 down low to give us 4. We'll look to rebound next week...
2/1/01 vs Meat and Potatoes - 7:00 - The slump continues, as we lost 6-3. Phil, Bryan, and Shane scored goals.
2/8/01 vs Large Clips - 8:00 - We snapped our slump tonight, winning in a big way. Scott converted a pass from Shane to start the scoring in the first, and it remained 1-0 until the second. Phil and Paul both scored two goals in the second, and Shane and Jamie added goals as well. The other team got their only goal on a breakaway in the final seconds of the second. This looked like the team that won last session, scoring in bursts, outskating the other team, playing solid defense and getting soldi goaltending.
2/15/01 vs Bulldogs(?) - 8:00 Forfeit Win
2/22/01 Playoffs:
Game One: vs Team X - 8:00
Game Two: vs Winner of 1,4 seeds - 9:30