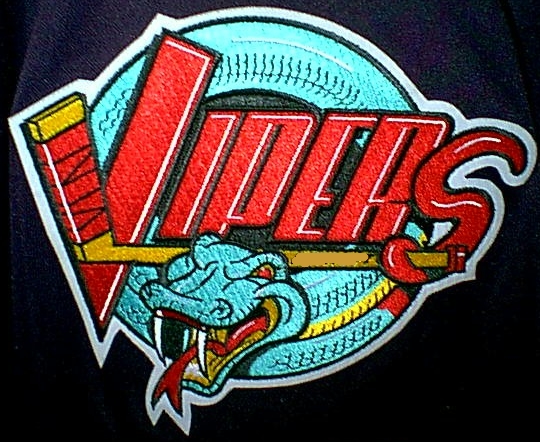 Summer 2001
Roster
---
Schedule/Game Summaries
6/7 vs Auks - 9:00 - After a shaky start, we rebounded to hammer the Auks 9-4. We fell behind 1-0 in the first, but Eric made a great second effort and was able to knock the puck upstairs from his stomach after being taken down. Later in the dying seconds of the period, Kurt got a step on the point man and went on a 2 on 1 with Paul. He fed the puck across and Paul went to the backhand and scored to put us up 2-1. Paul would score the third goal as well on a blast to put us up 3-1, and Kurt and Chris scored twice in the period. Phil assisted on Chris's second goal when he ripped a shot off the mask of the goaltender and then Chris came barrelling through the slot to slap in the rebound. Phil also scored a high slap shot and Paul would score again to round out the scoring. I can't emphasize enough the excellent play of Chris Mense in our own end, making it miserable along the boards for the opposing forwards.
6/14 vs Mustangs - 8:00 - After a horrendous start(myself in particular), we rallied to salvage a tie. Kurt had scored early, and Chris notched two goals in the first half of the game. down 5-3, we picked up our play and got a goal from Paul to make it 5-4. In the final minutes, when I was on the bench for a delayed call against the Mustangs, Chris jammed in a loose puck to tie it up.
6/21 vs Stars - 7:00 - This was a classic Stars/Vipers battle. After falling behind 1-0, Chris lifted a rebound over the goaltender to knot the score at 1. The Stars went up 2-1, but Chris Mense scored on a screen shot and Phil slapped in a five hole goal to put us up 3-2. Chris scored again as he cut across the slot and put it top shelf, and Paul scored perhaps the prettiest goal of the session so far on the power play. Eric made a quick pass from the point to Phil in the right circle, who one time passed it across to Paul in the left circle - Paul made no mistake one-timing in the short side. The Stars pulled within a goal, but a few late saves and a late goal by Tony finished them off 6-4.
6/28 vs Auks - 9:00 - After finding ourselves trailing 2-1 in the first, we picked up our game and picked up a lot of goals, while stopping a few in dramatic fashion. Chris notched 2 goals in the first period, and added 3 more in the 2nd and 3rd. Phil also scored 3 in the last 2 periods, and Brian scored on a high screen shot from the point, which made the score 6-2 at the time. Paul also scored 2 goals, including a rebound of Mark's shot for our final goal. Eric added about 5 assists, and Chris Mense made a great play to bat the puck out of the air when it was falling precariously toward the net following a sliding save.
7/5 vs Stampede - 8:00 - Playing with only 4, the Stampede didn't have a prayer, and we ende the game early in the third when Mark scored to make it 10-0. Paul and Chris each scored 3 goals, Phil netted 2, and Eric also scored from the doorstep off a pass from behind the net.
7/12 vs Meat and Potatoes - 8:00 - We finally stumbled upon a loss, coming up just short 3-2. We failed to score in the first two periods, and didn't really generate much until the third. Meanwhile, we gave up goals on a 2 on 1, a screen shot, and a semi-break. Phil got us on the board with a glove side backhander, and Chris chipped in a rebound to pull us within 1, but we couldn't get the tying goal before time ran out.
7/19 vs Mustangs - 7:00 - 8-3 win
7/26 vs Stars - 8:00 - Whoa, goodbye GAA!! We surrendered 4 goals in the first 8:00, and only scored one goal - Paul scored a top corner glove side shot. Meanwhile, we gave up 10 goals to some good plays and to some bounces that failed to go our way. Playoffs are in 2 weeks, so hopefully we will regroup by then.
Playoffs - 8/9 vs ??? - 8:00 & ???